Lynn Richardson: Arctic Garden on Exhibit in N. Adams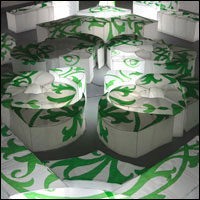 Assistant Art Professor Lynn Richardson is currently exhibiting her work in a special summer exhibition in North Adams, Mass., for the Massachusetts Museum of Contemporary Art (Mass Moca) in conjunction with the Oh Canada Exhibition (features work by more than 60 artists who hail from every province and nearly every territory in the country). Craig Leonard (Canadian Artist and Professor from the Nova Scotia School of Art and Design) and Prof. Richardson have solo installations on exhibit from June 28th-August 26th.
The special exhibit, "Lynn Richardson: Arctic Garden," is at North Adams' Downstreet Art Gallery 107 (107 Main St.) "With renewed debates over rights to waterways and Arctic shipping routes, Richardson believes a new era of colonization will soon begin. By using British colonialism as a metaphor for the potential exploitation of the Arctic, Richardson uses sound, motion, light, and the physicality of the assembled pieces aided in her concept to engage the viewer. Although her work is intended to be playful, even humorous in order to soften the hard reality of the underlying message, it presents a critical examination of the 'dichotomy between nature and our industry-driven culture and the devastating long-term effects our current courses of action will have on the environment.'"
Denise Markonish, curator of Oh, Canada, a show which represents the largest survey of contemporary Canadian art ever produced outside Canada, described how she was "thrilled to be asked by DownStreet Art to choose an artist from this vast research to exhibit in downtown North Adams as an extension of Oh, Canada.
Lynn Richardson's work highlights the production of both a Canadian and New England artist and deftly negotiates the contested terrain of landscape. Richardson's work begins with the beauty of a "manufactured" English garden, which she conflates with issues of land ownership and environmental degradation currently facing the Canadian Arctic, providing a glimpse at an uneasy future." Richardson has received awards from the Winnipeg Arts Council and Canada Council for the Arts, as well as presented her sculpture in numerous exhibitions throughout Canada, the United States, and Taiwan.
"Lynn Richardson: Arctic Garden" will be on view through August 26. Gallery 107 is at in North Adams and is open Wed.-Fri.12-6, Sat.10-6 and Sun.10-2. For more information, 413.663.5253, or go to www.downstreetart.org.
Related Stories