Two KSC Students Blaze the Trail for Study in Krakow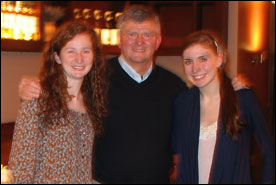 When Paul Vincent (professor of Holocaust and Genocide Studies) and Hank Knight (director of the Cohen Center for Holocaust and Genocide Studies) visited Jagiellonian University in Krakow, Poland, last year,their aim was to establish a formal relationship between KSC and Jagiellonian's Centre for European Studies. "It fit beautifully for us," Dr. Vincent explained, "especially for the Holocaust part of our major. Krakow is perfectly located within walking distance of the infamous Plaszów concentration camp. The factory mentioned in Schindler's List is located nearby, as is the ghetto. It's about a 45-min drive from Auschwitz. If you're studying the Holocaust, there is a remarkably powerful mental impact to stand in the places where these things happened. You see the world differently when you're actually studying this in Poland."
As a result, Jagiellonian University is now part of the KSC Global Education Office's (GEO) study away program. Particularly exciting was the Centre's recent decision to offer a master's level program in Studies in Holocaust and Totalitarian Systems.
Two Keene State students, Bridget Love and Megan Olson, took advantage of this relationship during the recent spring semester to study in Krakow. Bridget is a Holocaust and Genocide Studies major, while Megan is studying social psychology with plans to go into elementary ed.
Justyna Jochym, who coordinates study-away students at the Centre, has been very impressed with these two students: "Bridget and Megan seem to be enjoying all that Krakow and Europe have to offer," she reported in an email to Prof. Vincent. "They are truly remarkable girls-they approach everything with such optimism that it is just delightful to have them around. The prospect of having more students from Keene is very exciting, given the precedent these two have set!" Such a positive report has Prof. Vincent excited about the future of KSC's relationship with the Centre. "This reinforces my belief that we can look forward to a wonderful and evolving relationship with the Centre for European Studies," he said.
When he visited Bridget and Megan during spring break last March, he found them ecstatic. "I took them out to dinner, and they had nothing but praise for the experience," he reported. "The people who are in charge of the program are really looking out for the students; they definitely have their best interests at heart. Megan and Bridget are a perfect team, and it's good that they went over together. They are thoroughly enchanted and enjoying themselves."
Related Stories