Two American Landscape Exhibits Open in June at the Thorne-Sagendorph Art Gallery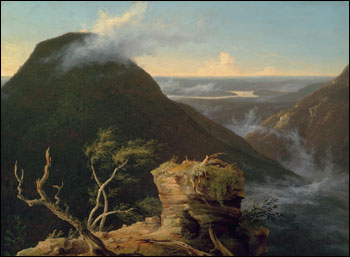 KEENE, N.H., 5/25/12 - Hudson River School founder Thomas Cole and Dublin Art Colony artist William Preston Phelps will be showcased in two American landscape exhibitions opening in June at the Thorne-Sagendorph Art Gallery at Keene State College.
Illuminating Landscapes and Recent Gifts includes landscapes borrowed from private collectors and from the Thorne's Collection and recent gifts in memory of Rosamond Putnam. This exhibit of landscape paintings that show Thomas Cole's influence on American landscape art will be on view from Friday, June 1 through Sunday, July 29 and will reopen Tuesday, August 28 to Sunday, September 16. Illuminating Landscapes includes selections from the Thorne's collection and artwork from various lenders and includes views of Mount Monadnock, the White Mountains, and other scenic locales by 19th century artists such as Phelps and contemporary local artists whose style is influenced by Cole's vision of the power of landscape on our psyche. The gallery will also spotlight three collages by contemporary artist Varujan Boghosian, recent gifts given in memory of Rosamond Putnam, a founding member of the Friends of the Thorne.
Wild Land: Thomas Cole and the Birth of American Landscape Painting uses a combination of large-scale banner graphics, immersive environments, media features, and other interactive strategies to reveal the way in which Cole, and other artists of his time, pioneered cultural conversation that shaped our perception of the American landscape. The exhibit, on display from Friday, June 15 to Sunday, July 29, does not include original Cole paintings, but takes visitors "into the woods" and through Cole's 19th century studio with prints and photographs. Additional events will be scheduled around this exhibit, so look for information during the summer.
Wild Land: Thomas Cole and the Birth of American Landscape Painting is made possible by NEH on the Road, a special initiative of the National Endowment for the Humanities. The exhibition was organized by the Thomas Cole National Historic Site/Cedar Grove in Catskill, New York and was adapted and toured by Mid-America Arts Alliance through NEH on the Road. NEH on the Road offers an exciting opportunity for communities of all sizes to experience some of the best exhibitions funded by the National Endowment for the Humanities (NEH). Mid-America Arts Alliance was founded in 1972 and is the oldest regional nonprofit arts organization in the United States. For more information, visit www.maaa.org or www.nehontheroad.org.
The exhibits are free and open to the public. Gallery hours are Wednesday and Thursday, noon to 5 p.m.; Friday, 3 to 8 p.m.; Saturday and Sunday, noon to 5 p.m.; and closed Monday and Tuesday and July 4 for Independence Day. The gallery, located on Wyman Way on the Keene State campus, is accessible to people with disabilities. To request accommodations for a disability, please call the gallery at least two weeks before your visit. For information, call 603-358-2720 or visit www.keene.edu/tsag.
About Thorne-Sagendorph Art Gallery
A cornerstone for the visual arts in the Monadnock Region, the Thorne- Sagendorph Art Gallery offers an art gallery experience generally found only in larger cities. The Thorne maintains a year-round schedule of exhibitions of national and international quality and distinction, while affirming a strong commitment to the historic artistic tradition of southwestern New Hampshire's Dublin Art Colony. The Thorne also shows local artists as well as Keene faculty and student work.
About Keene State College
Keene State College is a preeminent public liberal arts college that ensures student access to world-class academic programs. Integrating academics with real-world application and active community and civic engagement, Keene State College prepares graduates to meet society's challenges by thinking critically, acting creatively, and serving the greater good. To learn more about Keene State College, visit www.keene.edu.
Keene State College: Wisdom to make a difference.
Related Stories