Mangean Wins People's Choice Award at KSC Student Exhibition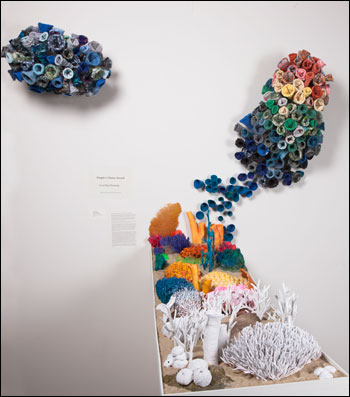 KEENE, N.H., 4/30/12 - Keene State College senior art major Rachel Mangean, who resides in Brattelboro, Vt. and whose hometown is Bridgewater, N.J., was voted the winner of the People's Choice Award for Coral Reef Warming, a sculpture displayed in the Emerging Art exhibit, presented by the KSC Art Department through Saturday, May 5, at the Thorne-Sagendorph Art Gallery.
During the first weeks of the annual Keene State art students' exhibition, visitors were invited to vote for their favorite work of art. Mangean won the majority of the 395 votes cast. She will receive a $100 cash award from the Friends of the Thorne along with a People's Choice Commendation.
The ceramic, wire and fabric sculpture installation shows the effects of coral bleaching caused by acidification of the oceans. The piece replicates the brilliant colors of a living color reef and then fades into the gray and white colors of a dying reef. Mangean who has never seen live coral in the ocean learned about this ecosystem during a biology class at Keene State. She now belongs to an international Coral Reef Alliance that works to save coral reefs throughout the world.
"As a future educator as well as an artist, I feel that it is important to state the facts as well as to present the impact we humans have on our planet's fragile ecosystem and biodiversity," explains Mangean in her artist's statement that accompanies the work. Coral Reef Warming is my way of inspiring others to take seriously a consideration for this life at the bottom of the ocean."
Mangean is one of 13 Bachelor of Arts and 11 Bachelor of Fine Arts students, who will be graduating on May 6 whose works are on display in Emerging Art.
The exhibit is free and open to the public. Gallery hours are Sunday to Wednesday, noon to 5 p.m.; Thursday and Friday, noon to 7 p.m.; and Saturday, noon to 8 p.m. The gallery, located on Wyman Way on the Keene State campus, is accessible to people with disabilities. For information, call 603-358-2720 or visit www.keene.edu/tsag.
About Thorne-Sagendorph Art Gallery
A cornerstone for the visual arts in the Monadnock Region, the Thorne- Sagendorph Art Gallery offers an art gallery experience generally found only in larger cities. The Thorne maintains a year-round schedule of exhibitions of national and international quality and distinction, while affirming a strong commitment to the historic artistic tradition of southwestern New Hampshire's Dublin Art Colony. The Thorne also shows local artists as well as Keene faculty and student work.
About Keene State College
Keene State College is a preeminent public liberal arts college that ensures student access to world-class academic programs. Integrating academics with real-world application and active community and civic engagement, Keene State College prepares graduates to meet society's challenges by thinking critically, acting creatively, and serving the greater good. To learn more about Keene State College, visit www.keene.edu.
Keene State College: Wisdom to make a difference.
Related Stories