Keene State Announces Senior Athletics Award Winners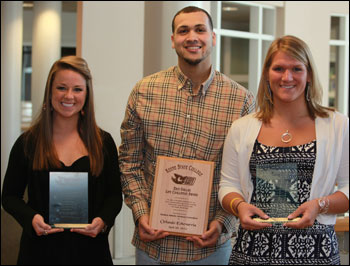 KEENE, N.H., 4/29/11 - Jeff Pelkey (Fitzwilliam, N.H.) and Jillian Whitaker (Gilford, N.H.) were named male and female athletes of the year, respectively, at Keene State College's 2011-12 Senior Athletics Awards ceremony, held Sunday at the Lloyd P. Young Student Center.
Erin Griffin (Londonderry, N.H.) was the recipient of the Senior Scholar- Athlete Award, and the Keene State women's soccer team and men's swim/dive squad were presented with the Don Carle Award for having the highest cumulative GPA among Owl teams. In addition, the 20-member KSC All-Academic team was also recognized.
Orlando Echevarria (Chelsea, Mass.) received the Erin Dallas Life Challenge Award.
Pelkey, one of the top pitchers in the highly competitive Little East Conference, became Keene State's all-time leader in wins (19-5 career record through Saturday) this season. A bulldog on the mound, the Fitzwilliam, N.H., native uses his guile and guts to keep opposing batters off balance. Posting a 6-0 record as a freshman, he rebounded from a tough sophomore season to go 7-0 as a junior, earning first-team All-LEC honors. Moving back into the rotation, he won four of six starts, giving up just one run in a key LEC tournament game victory over Southern Maine. His senior season highlights include a sparkling six-inning effort against nationally ranked Wheaton College, when he gave up just one run while fanning five batters.
Pelkey thanked the Owls coaching staff and his teammates. "I was fortunate to have the opportunity to pitch since my freshmen season," said Pelkey. "It's been a great four year and hopefully we've got a few more wins coming in the next few weeks."
"He entertained the thought of being a two-sport athlete in college, but we were extremely happy that he decided to concentrate on baseball," said KSC Coach Ken Howe. "We're glad that he decided to stay close to home to continue his baseball career."
A member of the Keene State women's swim team, Whitaker completed her four- year career as one of the program's most accomplished and honored athletes, playing a major role in elevating the Owls into conference, regional, and national prominence. Named LEC rookie swimmer of the year as a freshman, she was among KSC's first female All-Americans in the sport, earning the honor as a member of the 200 medley relay team as a sophomore and junior. Whitaker returned to NCAA championship competition as a senior, qualifying in several individual breast stroke races. A 12-time LEC champion and 15-time NEISDA winner, Whitaker earned the senior high-point award at the NEISDA championship and was named the LEC swimmer of the year. Leading the Owls to two NEISDA titles and four consecutive LEC crowns, Whitaker currently holds KSC records in the 50, 100, and 200 breast stroke events as well as multiple freestyle and medley relays.
Whitaker was very surprised with the honor. "It's quite an honor. I worked so hard. It makes everything I've done this season and all four years so much worth it," she said.
"Jillian has progressed better than I've ever seen any swimmer progress in my life," said KSC Coach Jack Fabian.
Griffin, a two-year member of the Keene State women's soccer team, got the job done on the field and in the classroom this year. An elementary education/psychology major, she overcame numerous knee injuries to have a healthy and productive senior season for the Owls. Making the transition to the backfield, Griffin was a dynamo on defense, contributing to the team's 14 shutouts and LEC regular season championship. Following the season, Griffin was the recipient of LEC second-team and NEWISA third-team honors.
"This award really means a lot to me," said Griffin, who has an impressive 3.92 cumulative GPA. "I feel like I put in a lot of effort over the years and this means the world to me."
Set to earn his degree from Keene State next month in Safety and Occupational Health Applied Sciences with a minor in Criminal Justice, Echevarria, a two- year member of the Owl men's basketball team, has come a long way since arriving on campus. His success as a student athlete is about both where he's going and where he's been. Having overcome the temptations of the streets growing up in Chelsea, Mass, Echevarria has fulfilled his dream to earn a degree and play basketball at a four-year college.
"Coach Rob Colbert said it's like a dream come true and I'm glad I made it," said Echevarria. This award is a symbol of my hard work. I'm going to put in on my wall and it will remind me of the dream."
"He overcame life in the streets and some bad decisions he had made and Keene State changed this young man," said KSC Coach Rob Colbert. Keene State was the difference in his life."
The following 27 senior athletes and student athletic trainers have been named to the 2011-12 KSC All-Academic team: Athletic Training: Ryan DeWolf (Shirley, Mass.), Gwenn Lanouette (Waterbury, Conn.), Theodore Nutting (North Conway, N.H.); Baseball: Erik Bergstrom (Enfield, Conn.), Kyle Morrill (Auburn, N.H.); Field Hockey: Kerry Howe (Atlantic Highlands, N.J.), Aislynn Sherry (Rehoboth, Mass.); Men's Diving: Derek Peabody (Haverhill, Mass.); Men's Lacrosse: Matt Crimmins (Saratoga Springs, N.Y.), Matt Schairer (Wrentham, Mass.), David Shaw (Acton, Mass.); Men's Swimming: Ian Watters (Jamestown, R.I.); Softball: Maura Bergan (Manchester, Conn.), Katie Bradford (Lebanon, N.H.), Haley Chandler (Wakefield, Mass.), Laura Chandler (Wakefield, Mass.), Samantha Pratt (Bristol, Conn.), Courtney Savoie (Stratham, N.H.); Women's Basketball: Nicole Cote (Ashford, Conn.), Meghan Farrell (Chester, Vt.); Women's Soccer: Megan Dempsey (East Weymouth, Mass.), Melissa Dempsey (East Weymouth, Mass.), Erin Griffin (Londonderry, N.H.); Women's Swimming: Jillian Whitaker (Gilford, N.H.), Meghan Wilson (Torrington, Conn.); Women's Volleyball: Kristen Girard (Red Hook, N.Y.), Braelan O'Toole (Derry, N.H.).
Related Stories