Emerging Art Showcases Keene State Art Major's Work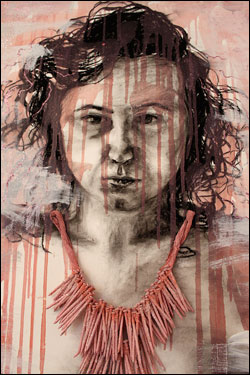 KEENE, N.H., 3/20/12 - Works by 24 graduating art majors will be showcased in Emerging Art, the Annual Keene State College Art Students' Exhibition, presented by the KSC Art Department from Saturday, April 14, through Saturday, May 5, at the Thorne-Sagendorph Art Gallery.
Friends of the Thorne will host an opening reception for Emerging Art on Friday, April 13, from 5:30 to 7:30 p.m. at the gallery, located on the Keene State campus.
The Art Department will also sponsor a Graphic Design Senior Portfolio review from 3 to 7 p.m. the same day Friday, April 13 at the Young Student Center on the KSC campus. More than 35 graphic design seniors will open their portfolios and display their best design work. Refreshments will be available.
In Emerging Art, Bachelor of Fine Arts candidates, graduating seniors, and a selection of students taking art classes will exhibit their paintings, drawings, prints, sculpture, and ceramic works. The pieces were selected by Art Department faculty from work students completed in all levels of art classes throughout the academic year.
One gallery will feature artwork by 11 Bachelor of Fine Arts students graduating in May: Mic Aucoin of South Yarmouth, Mass.; Haley Botti of Dracut, Mass.; Sean Bowes of Ledyard, Conn.; Katie Houle of Newton, N.H.; Kerry Howe of Atlantic Highlands, N.J.; Chris Jennerjohn of Bedford, N.H.; Kathryn Levesque of Concord, N.H.; Eileen Longe of Swanzey, N.H.; Rachel Messersmith of Alexandria, N.H.; Samantha Pratt of Bristol, Conn.; Alice Raymond-Morse of Ballston Spa, N.Y.; and Paige Simpson of Dublin, N.H. The B.F.A. program is highly selective and requires seniors to exhibit a body of their work. These students have been preparing their artwork for exhibit during a Senior Seminar course taught by Lynn Richardson, Assistant Professor of Art.
Thirteen other seniors expecting to receive the Bachelor of Arts degree will have their artwork featured in the second gallery, along with other students' work. These graduating seniors are: Marie Avery of Medford, Mass.; Sarah Berry of Manchester, N.H.; Caroline Brion of Amherst, N.H.; Mike Corssen of Oyster Bay, N.Y.; Meaghan Howe of Westford, Mass.; Heidi Kruse of Newfane, Vt.; Erin Mannle of Portsmouth, N.H.; Lauren Perlstein of Chester, Conn.; Kim Stickler of Avon, Conn.; Rosemary Urato of Keene, N.H.; and Katherine Wilkinson of Rindge, N.H.
Gallery visitors are invited to vote for their favorite artwork for the People's Choice Commendation, which carries a $100 cash prize and is sponsored by the Friends of the Thorne. The winner will be announced on Monday, April 30.
The exhibit, reception, and portfolio review are free and open to the public. Gallery hours are Sunday to Wednesday, noon to 5 p.m.; Thursday and Friday, noon to 7 p.m.; and Saturday, noon to 8 p.m. The gallery, located on Wyman Way on the Keene State campus, is accessible to people with disabilities. To request accommodations for a disability, please call the gallery at least two weeks before your visit. For information, call 603-358-2720 or visit www.keene.edu/tsag.
About Thorne-Sagendorph Art Gallery
A cornerstone for the visual arts in the Monadnock Region, the Thorne- Sagendorph Art Gallery offers an art gallery experience generally found only in larger cities. The Thorne maintains a year-round schedule of exhibitions of national and international quality and distinction, while affirming a strong commitment to the historic artistic tradition of southwestern New Hampshire's Dublin Art Colony. The Thorne also shows local artists as well as Keene faculty and student work.
About Keene State College
Keene State College is a preeminent public liberal arts college that ensures student access to world-class academic programs. Integrating academics with real-world application and active community and civic engagement, Keene State College prepares graduates to meet society's challenges by thinking critically, acting creatively, and serving the greater good. To learn more about Keene State College, visit www.keene.edu.
Keene State College: Wisdom to make a difference.
Related Stories