KSC's Thorne Art Gallery Features Art by Faculty Working in Graphic Design, Photography and Printmaking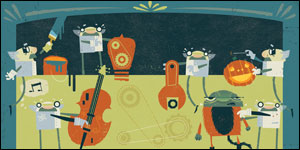 KEENE, N.H., 12/22/11 - The Thorne-Sagendorph Art Gallery will host the 2012 Biennial Keene State College Art Faculty Exhibition featuring photography and graphic design works by two new faculty members, Rebecca Davis-Kelly and Jonathan Gitelson, and intaglio prints by long-time art professor John Roberts. The show will also include recent studio art and graphic design works by faculty members Rosemarie Bernardi, Richard Carlson, Mary Crawford, Molly Fletcher, Robert Kostick, Paul McMullan, Stephanie Nichols, Walter Nicolai, Yuan Pan, Lynn Richardson, Katharina Rooney, Peter Roos, Tanya Rudenjak, and Ann Shelton.
The exhibit opens on Saturday, January 21, and continues through Sunday, February 26, at the Thorne Gallery on the Keene State campus. The Friends of the Thorne will host an opening reception Friday, January 20, from 5:30 to 7:30 p.m. The exhibits and reception are free and open to the public. Gallery hours are Sunday to Wednesday, Noon to 5 p.m.; Thursday and Friday, Noon to 7 p.m.; and Saturday, Noon to 8 p.m.
Rebecca Davis-Kelly, who lives in Keene, joined KSC from Mississippi State University where her research involved advocating for the ethics and responsibilities of graphic designers. She is also concerned with the level of corporate involvement in our everyday lives. She partners in a small graphic design studio working on such clients as Frito-Lay, Pepsi, Coca-Cola, Campbell's, Hasbro Toys, Southwest Airlines, and Houghton Mifflin Harcourt. It is her mission to prove to the world that graphic designers can do more than sell toothpaste.
Gitelson, who resides in Brattleboro, Vt., is an assistant professor of art with a focus on photography. He holds a M.F.A. in photography from Columbia College-Chicago. His work has been exhibited throughout the United States, Canada, and Europe and is in the permanent collection of numerous institutions that include The Museum of Contemporary Photography, The Museum of Fine Arts Houston, The Museum of Fine Arts Boston, The Milwaukee Art Museum, The Whitney Museum of American Art, The Museum of Modern Art New York, and The Albert and Victoria Museum in London. Recent commissions have included a permanent installation for the Chicago Transit Authority and a three-month public installation at the Inkijk Gallery in Amsterdam.
Roberts, who lives in Keene, has taught printmaking, drawing, foundation design and painting at Keene State since 1981. He received his M.F.A. from Southern Illinois University-Carbondale. Over the past two decades, his personal engagement with printmaking has focused upon the intaglio process, where he has done the most research. Roberts has had several solo exhibitions and has been included in regional, national, and international printmaking exhibitions. Most recently, his work was exhibited at the Two Rivers Printmaking Studio in White River Junction, Vt., Plymouth State University, Sharon Arts Center in Peterborough, the Franklin Pierce Law Center in Concord, and the New Hampshire Institute of Art in Manchester, the State University of New York-Brockport, University of Dallas, and the University of Wisconsin- Madison.
The Thorne Gallery, located on Wyman Way on the Keene State campus, is accessible to people with disabilities. To request accommodations for a disability, please call the gallery at least two weeks before your visit. For information, call 603-358-2720 or visit www.keene.edu/tsag.
About Thorne-Sagendorph Art Gallery A cornerstone for the visual arts in the Monadnock Region, the Thorne-Sagendorph Art Gallery offers an art gallery experience generally found only in larger cities. The Thorne maintains a year- round schedule of exhibitions of national and international quality and distinction, while affirming a strong commitment to the historic artistic tradition of southwestern New Hampshire's Dublin Art Colony. The Thorne also shows local artists as well as Keene faculty and student work.
About Keene State College Keene State College is a preeminent public liberal arts college that ensures student access to world-class academic programs. Integrating academics with real-world application and active community and civic engagement, Keene State College prepares graduates to meet society's challenges by thinking critically, acting creatively, and serving the greater good. To learn more about Keene State College, visit www.keene.edu.
Keene State College: Wisdom to make a difference.
Related Stories