NSF Grant Benefits Chemistry Students, Regional Colleges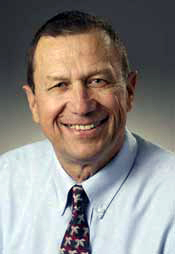 Keene, N.H. 9/23/2010 - The National Science Foundation announced this week that Keene State College has been awarded a grant of $290,000 to acquire a CCD single crystal X-ray diffractometer, a sophisticated piece of equipment used by chemistry students and researchers to determine precise three-dimensional molecular structure from crystallographic data. The grant, written by Dr. Jerry Jasinski, professor of chemistry, covers the entire cost of the instrument and its accessories.
Faculty and students from six New England Colleges (Dartmouth, Middlebury, Williams, St. Anselm's, Clark University, and the University of New Hampshire) will have access to the instrument, which will be housed in the David F. Putnam Science Center at Keene State in a cyber-enabled environment for research and teaching. This will allow researchers to collaborate across geographic boundaries and to share data, tools, and ideas impacting areas of synthetic chemistry and systems of biological interest to materials science applications. Professional collaboration will benefit all partners, and special outreach will be extended to underrepresented groups, including women and low-income students, and to local high schools.
"This acquisition is a state-of-the-art high-tech instrument with tremendous potential and significance. It will have enormous impact on the research of pharmaceutically active molecules being studied in my laboratory, as well as the projects of the regional partners. I am thrilled to be able to bring this capability to Keene State and into my teaching, research, and collaboration with outside colleagues in such a cyber-enhanced venue," Jasinski stated.