Owls Upset Brandeis in ECAC Championship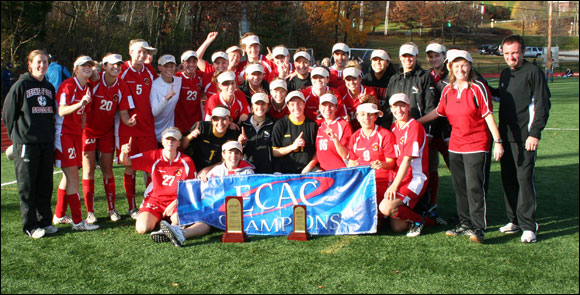 Keene, N.H. - 11/16/2009 After 110 minutes of scoreless play, the second- seeded Keene State College women's soccer team connected on four of their five penalty kicks to capture the ECAC New England tournament crown from top-seed and two-time defending champion Brandeis University 4-2 in Waltham, Mass. on Saturday. KSC sophomore goalkeeper Megan Dempsey (E. Weymouth, Mass.), who registered her third-straight shutout, was named the tournament's Most Valuable Player.
"We dominated most of the second half but just couldn't find the back of the net," said KSC head coach Denise Lyons. "Winning the ECAC's is a great way to end our season and a nice way to send off our seniors."
In the penalty kicks, Keene State went first and hit the post, but Dempsey responded by making a diving save to keep the ledger clear. Owl sophomore Tara Nathan (Bethel, Conn.) connected on her next attempt, but the Judges missed their second try, hitting the crossbar. The next four players all connected, giving Keene State a 3-2 lead. Owl sophomore Samantha Jo Saltalamaccia (Sandown, N.H.) connected on their fourth PK, giving the visitors the insurmountable 4-2 lead and their first ECAC title since 2005.
Dempsey, who finished with five saves in the game and 12 for the tournament, picked up her third shutout in a row, giving her nine for the season.
The Owls also won the ECAC Division III title in 2005 and as a Division II member in 1986, 1987, and 1993.
Related Stories