KSC Students Perform Threepenny Opera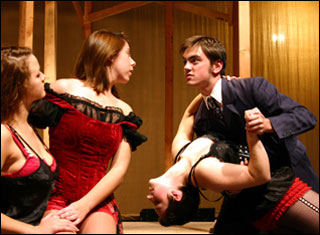 KEENE, N.H., 11/06/09 - Keene State College students from the Department of Theatre and Dance will perform The Threepenny Opera, directed by KSC assistant professor Ron Spangler, Wednesday through Saturday, November 18-21, at 7:30 p.m. at the Redfern Arts Center on Brickyard Pond. Admission is $16 for the general public, $14 for senior citizens and youth under age 17, and $6 for KSC students. Tickets are available through the box office at 603-358-2168 or online at www.keene.edu/racbp.
The Threepenny Opera, a musical written by Bertolt Brecht and composer Kurt Weill, is an early example of the modern musical comedy genre depicting the dark side of human nature. Set in Victorian England, Brecht uses such characters as Macheath (Mack the Knife), who wants to marry Polly Peachum for reasons other than love, and Mr. and Mrs. Peachum, who control the beggars of London, to exemplify the idea that everybody cheats, and everybody sells someone out. Brecht makes it known to the audience that a fairytale ending can only happen in a play, not in real life.
The Threepenny Opera incorporates a sharp political perspective of the time with the sound of a 1920s Berlin dance band and cabaret. It's apparent why Threepenny was the inspiration for more contemporary musicals such as Chicago and Cabaret.
Ryan Demers of Merrimack, N.H., plays Macheath; Michael Ierardi of Nashua, N.H., plays Mr. Peachum; Jessica Mahoney, of Holtsville, N.Y., plays Mrs. Peachum; Hayley Duyon of Londonderry, N.H., plays Polly Peachum; and Zach Brandon of Nashua, N.H., plays the street singer. KSC professor of Theatre and Dance Cèline Perron is designing sets and lighting. Professor Elisabeth Roos is costume designer for the production. Theatre and Dance faculty members Craig Lindsay and Marcia Murdock serve as technical director and choreographer, respectively. Robert L. Blake will conduct the orchestra.
Related Stories