Exhibit Showcases Underrepresented Comics Artists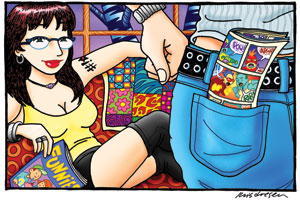 KEENE, N.H., 10/8/09 - The history of comics from early newspaper strips to digital internet works will be explored in an art exhibit to be displayed October 24 to December 6 at the Thorne-Sagendorph Art Gallery.
"Out of Sequence: Underrepresented Voices in American Comics" celebrates creators of comics, both historical and contemporary, from underrepresented demographics, including women and minorities. A public reception, hosted by Friends of the Thorne, will open the exhibit on Friday, October 23, from 5:30 to 7:30 p.m. at the gallery, located on the Keene State College campus.
"Out of Sequence" features works by a diverse group of comic artists and writers including Ethel Hays' 1927 depictions of Flapper Fanny, Dale Messick's popular Brenda Starr in 1945, and 21st century artists such as Nat Turner, creator of Kyle Baker, and Ann Telnaes' digital projection, Drawing the Line. The exhibit showcases works by women, small press, minority, independent, gay and lesbian, self-published, underground, Web, and/or gallery comic creators. During the 20th century, white males were considered the creators of the popular comic culture, but at the same time there were plenty of other voices, according to John Jennings and Damian Duffy, co-curators of the exhibit. Both are based at the University of Illinois at Urbana-Champaign, where they create comics together.
"Out of Sequence" extends the boundaries of the comics form, embracing nontraditional techniques and experimental design and story elements. The hundreds of pieces in the show include actual comics, story boards, illustration panels, comics enlarged in poster form, Web comics, virtual installations, and comic-inspired gallery art.
"Out of Sequence: Underrepresented Voices in American Comics" is organized by Krannert Art Museum, University of Illinois at Urbana-Champaign, and the national tour is supported in part by the U of I offices of the Chancellor and the Provost and Vice-Chancellor for Academic Affairs, the Illinois Art Council, and the Krannert Art Museum Director's Circle and Council.
Also showing at the Thorne Gallery through November 24 are two exhibits:
"Downstream: Current Works on Water by Six Artists" - Christine Destrempes, Janet Fredericks, Amy Jenkins, Mary Lang, Nathalie Miebach, and Marjorie Ryerson - who use water as inspiration and metaphor in a variety of innovative media to address the importance of clean drinking water to everyone on earth.
"Migrations: New Directions in Native American Art," which features works by six artists who engage in contemporary art rather than what is traditionally considered Native American art. The Migrations project was developed to identify and showcase emerging Native American artists working with a contemporary vocabulary.
The gallery is open from noon to 4 p.m., Saturday through Wednesday, and noon to 7 p.m., Thursday and Friday. It will close November 11 for Veterans Day and November 25-29 for Thanksgiving break. The exhibits and reception are free and open to the public. Located on Wyman Way on the Keene State campus, the Thorne Gallery is accessible to people with disabilities. To request accommodations for a disability, please call the Thorne Gallery at least two weeks before your visit. For more information, call 603-358-2720 or visit www.keene.edu/tsag.
Related Stories