Dr. Anne-Marie Mallon Named KSC 2009 Distinguished Teacher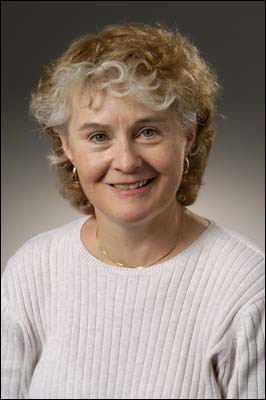 KEENE, N.H. 9/11/09 - Dr. Anne-Marie Mallon has been named 2009 Distinguished Teacher by the Keene State College Alumni Association. For 38 years, the Distinguished Teacher Award has been presented to a faculty member of extraordinary professionalism and dedication. The award is based on four criteria: excellence in the classroom, encouragement of independent thinking, rapport with students both in and out of the classroom, and effective student advising.
Colleagues and students who nominated Dr. Mallon describe her as one of the most committed teachers, leaders, and mentors at the College. "Every time she teaches a course Dr. Mallon reengages herself intellectually with a deep and complex sense of how to take her students on the next ambitious intellectual voyage of their college career," Dr. Nona Fienberg, KSC dean of Arts and Humanities, wrote in support of Dr. Mallon's nomination.
Dr. Mallon began teaching in the English department at Keene State in 1985 and soon after became a founding member of the Women's Studies Program. She guided the development of that curriculum and continues to mentor new faculty who join the Women's Studies Council. She served on the council that helped to create the Keene State Honors Program, and in the spring of 2009 took a group of students to South Africa for an honors seminar. She served on the Integrative Studies Program Committee, and is director of the Travelli-Ayling Scholarship Program.
She received a B.A. from Fordham University, a Master of Arts from the University of Notre Dame, and a Ph.D. in American Literature from the University of Notre Dame. Her scholarly interests include women writers, twentieth-century American literature, lesbian and gay literature, international narratives, and modern drama. She is completing research for a new publication on African women writers, with a special emphasis on lesbian writers.
Related Stories