Van Cliburn Medalist Opens Redfern Season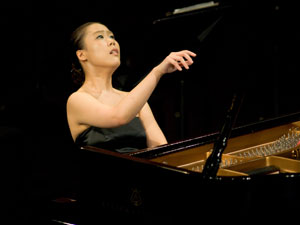 KEENE, N.H., 9/2/09 - South Korean pianist Yeol Eum Son, winner of the Silver Medal in the 2009 Van Cliburn International Piano Competition, will open Keene State College's Redfern Art Center's 2009-10 Visiting Artists Series on Wednesday, September 30. The Van Cliburn, the most prestigious piano competition in the United States, selected Son from among 30 finalists on June 7 after 17 exciting days of extraordinary music making.
Son's performance, which will feature works by Mozart, Schubert, Godowsky, Debussy, and Barber, will be held in the Redfern's Alumni Recital Hall at 7:30 p.m. At 2 p.m. on September 30, Son will conduct a lecture demonstration that is free and open to the public. You can see her prize-winning performances at www.cliburn.tv. Her appearance at the Redfern is sponsored by Peerless Insurance.
Though only 23, Son has carved out an impressive career as a concert pianist. Already considered among the most important artists of her generation in South Korea, she has performed there with almost every notable orchestra.
Possessing the ability to perform a wide range of solo and orchestral works, Son will play at least six different concerti with 10 orchestras during the 2009-10 season. She recently performed with the Warsaw Philharmonic, New York Philharmonic, and Tokyo Philharmonic Orchestras and Germany's Baden-Baden Symphony. Among her many international awards are first prizes at the Ettlingen International Piano Competition in Germany and Italy's Viotto International Music Competition. Her Van Cliburn Competition CD, which includes performances of Barber's "Sonata for Piano Op. 26" and Debussy's "Preludes Book I," is being released this fall by Harmonia Mundi USA.
Tickets and information are available at the Redfern Arts Center box office, 603-358-2168, or online at www.keene.edu/racbp where you can also view many video clips from the season's Visiting Artists repertoire. Special memberships with many benefits, including free tickets, are also available at the Redfern box office or online.
Related Stories