The Miracle that Is Erin Dallas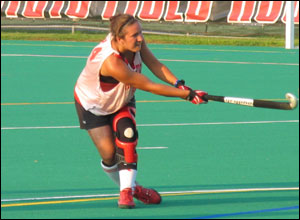 KEENE, N.H. 8/28/09 - During the 1980 Winter Olympics, with the clock ticking down the final seconds, the United States upset a heavily favored Soviet Union hockey team. Announcer Al Michaels asked a stunned nation, "Do you believe in miracles?"
Twenty-nine years later, with the days dwindling down to the start of the Keene State field hockey season, Owl coaches, players, and fans are asking that same question.
Fighting off a life-threatening necrotizing fasciitis infection (a rare bacterial infection that can destroy skin and the soft tissue beneath it) just months ago, Erin Dallas of Marlow defied the odds and will return to the Keene State field hockey team this season. "When people tell me I can't do something, I'm going to prove them wrong," said Dallas about her unyielding drive to return to the sport she loves.
Her recovery even surprised Doctor Robert Cantu, the Director of Orthopedic Trauma at Dartmouth-Hitchcock Hospital in Lebanon. "I'm amazed that she's even considering playing field hockey, let alone on a competitive team," he said.
Dallas won't forget August 11. Just nine months after enduring multiple surgeries and countless hours of physical therapy, Dallas was cleared to play. Cantu told Dallas, "I can't believe I'm doing this. You're definitely my miracle child."
A two-time All-American at Keene State, Dallas went in for what appeared to be routine ACL surgery at Cheshire Medical Center in mid-December 2008. It proved to be anything but routine. Four days later she was re-admitted to the hospital. "At first they thought it was a regular post-op infection," said Dallas. "I wasn't sure what was going on."
Shipped by ambulance up to Dartmouth-Hitchcock on New Year's Eve day, Dallas underwent 10 consecutive days of surgery. She spent hours in a hyperbaric chamber to kill the bacteria and had her first of many plastic surgeries on January 14.
When the plastic surgery didn't heal correctly, a frustrated Dallas remembers saying, "Take my leg and let me go home."
The multiple surgeries left Dallas confused and riding a wave of emotions. "Even after the plastic surgery, they were still debating whether they were going to take my leg," she said. "They later told me I wasn't ever going to be able to walk properly."
As difficult as it was, Dallas tried to accept the fact that her field hockey playing days were over. "Everybody was telling me that it was impossible to play with the severity of my injury," she said. "That just broke me down. I don't think I could live without it."
To make matters worse, Dallas also missed her three-year old daughter Tateeahna. Even when she visited, Dallas sensed something was wrong. "Every time I did see her, she wouldn't come near me because she was scared," said Dallas. "As a mother, that's pretty hard to deal with."
Dallas received a bit of good news on January 20, when the doctors finally stopped the infection and she was transferred back to Keene. But a few weeks later, Dallas found herself back up in Lebanon. Through the insistence of her mother Ann, Dallas was put back in the hyperbaric chamber. "My parents felt that the chamber saved my life the first time," Dallas said. "They wouldn't take no for an answer." Once when the chamber was understaffed, Ann, a nurse, stepped in so Dallas could continue her treatment.
Dallas said she couldn't have survived the ordeal without the support of her family and friends. Teammates and coaches decorated her hospital room, and the College held a special night for her at a basketball game with proceeds going to the hospital to offset her medical bills. Entering the Spaulding Gym with the aid of a walker, fans greeted an emotional Dallas with a standing ovation. Almost brought to tears, Dallas thanked the crowd for their prayers and for lifting her spirits during this difficult time in her life.
Dallas was also grateful to her mom, who took time off from work to be by her bedside every day. "If I didn't have my mom there, I honestly think things would have been different," Dallas said. "She knew the right questions to ask."
Activities Dallas once took for granted became milestones. A simple run was a cherished moment. Taking it one step at a time, Dallas equated her recovery to pre-season camp. "You start out really sore, and it improves from there," she said.
Soon after being cleared to resume physical activity, Dallas couldn't resist the temptation to pick up a field hockey stick. After hitting a ball around and doing a few moves, Dallas began pondering the impossible. "I started thinking, 'I can do this. Maybe I can talk them into letting me play again.'"
Doctor Cantu gave Dallas a list of stipulations she must follow before he would give her the go-ahead to resume her career. He asked her to practice for a month the same way she would during the season and see how her body handled it. If there were no problems, he would clear her to play.
First, Dallas needed Coach Amy Watson's affirmation that she could still be an asset to the team. After participating in a few scrimmages, Dallas had to cross one other hurdle: her mother's approval. "She came out and watched me play against my sister Nicole," Dallas said. "It was the first time since my injury I played one-on-one."
Dr. Cantu feels that Dallas' high fitness level and drive helped her survive the infection. "No question she's a very determined young lady," he said. "As she started to feel better, I certainly saw her energy level go up."
"When I saw Erin in a recent visit to the office, I told her I was shocked that she was considering playing field hockey again. In her own humble way she just said, 'That's the way I am.'"
Earlier, Dallas thought the only way she'd be able to serve her team was as an assistant coach. When she decided instead to play, an enthusiastic Dallas told several of her teammates that she'd be returning to the field.
One of her first calls went to captain Lindy Caslin. "I told her that I decided not to coach this season," Dallas said. When a puzzled Caslin pushed her for a reason why, Dallas finally said, "I'm not coaching because I'm playing." Caslin thought she was joking.
"When she called and told me, I didn't know what to say," said senior Tara Murphy. "I sat there in complete shock and awe that she was able to recover from such a tragedy."
"We went from crossing our fingers that she would be OK to hoping that she would be up and around again," said senior Vikki Stoessel. "When I found out this summer, I was floored. It's an absolute miracle. To be able to run up and hug her when we score and do all those things just like we did in years past is awesome."
When asked if she was surprised to see Dallas back on the field, Watson said, "Yes, and no. Given what she has been though from a medical point of view … extremely surprised. But knowing Erin all these years, not surprised at all. If anyone is going to fight through adversity, it would be her."
Many of her teammates didn't know about her return until the first day of practice. The astonished looks on their faces said it all. A midfielder during her first two seasons with the Owls, Dallas can't yet withstand the rigors of carrying the ball up field. She'll have to stay one step ahead of her opponents mentally to make up for her lack of mobility, so Dallas and Watson must decide whether she should play offense or defense. "It's going to be a big challenge for me as a coach to figure out how to use her to best advantage without hurting her," Watson said. "We'll take it one step at a time and, hopefully, she'll surprise herself and surprise me."
Except for keeping up with weekly physical therapy, mandatory weight lifting, and a list of pre-game precautions, number 44 plans on being in the starting line up in the Owls' opening season game against RPI this Tuesday.
"I love seeing her out there, because this is her home. This is where she belongs," said sophomore Aislynn Sherry. "She is meant to play." Looking back over the past nine months, Dallas said, "I've been through a lot, and I've learned a lot. The only advice I would give to others in my situation is, 'Never give up, because miracles do happen.'"
Related Stories