Native American Artists Exhibit at Thorne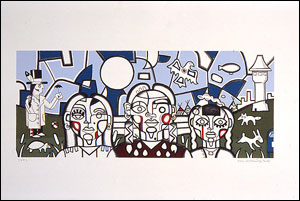 KEENE, N.H., 8/5/09 - Recent works by Native American artists will be showcased in Migrations: New Directions in Native American Art, one of two exhibits to open September 12 to November 24 at the Thorne-Sagendorph Art Gallery at Keene State College. The exhibit will include works by six artists who engage in contemporary art rather than what is traditionally considered Native American art.
A public reception for Migrations and another exhibit, Downstream: Current Works on Water by Six Artists, will take place Friday, September 11, from 5:30 to 7:30 p.m. at the Thorne Gallery.
The six Native American artists, whose prints are in the Thorne exhibit, worked on the Migrations project at The University of New Mexico's Tamarind Institute, a world-renowned center for fine art lithography. Each artist collaborated with professional printers at Tamarind and at Crow's Shadow Institute of the Arts in Pendleton, Oregon, to create prints. Artists Steven Deo (Creek/Euchee), Tom Jones (Ho Chunk), Larry McNeil (Tlingit/Nisgaa), Ryan Lee Smith (Cherokee), Star Wallowing Bull (Chippewa/Arapaho), and Marie Watt (Seneca) represent a wide spectrum of Native American cultures and experiences.
"Each of the Migrations artists has experienced the fluid boundaries of culture, and their work embraces both the modern and the traditional," wrote Tamarind director Marjorie Devon in the introduction to the book about the exhibit. The title of the exhibit, "Migrations," reflects the "diverse implications of movement: between one time and another, between cultures, between places, between artistic mediums, between obscurity and limelight."
In conjunction with the Migrations exhibit, Native American artist J. J. Kent will perform on Wednesday, September 16, at 8 p.m., in the Mabel Brown Room in KSC's Young Student Center. Kent, a member of the Oglala Lakota Nation, specializes in Native American history, story telling, and flute music. He is a speaker, musician, and educator who travels to various educational settings to spread his understanding of his Native culture. He was a nominee at the 2005 Native American Music Awards and the 2004 Indian Summer Music Awards. The Kent performance is co-sponsored by the KSC Campus Commission on Diversity and Multiculturalism and Common Ground Multicultural Club, a student organization.
Exhibited in the same gallery as Migrations will be Downstream: Current Works on Water by Six Artists. Christine Destrempes, Janet Fredericks, Amy Jenkins, Mary Lang, Nathalie Miebach, and Marjorie Ryerson use water as inspiration and metaphor in a variety of innovative media to address the importance of clean drinking water to everyone on earth.
Reopening September 12-27 will be the summer exhibits Keene State College - Celebrating Our Centennial 1909-2009: 100 Years of Academic Community and Photographs by Andy Warhol and Other Gifts to KSC.
The gallery is open from noon to 4 p.m. Saturday through Wednesday, and noon to 7 p.m. Thursday and Friday. It will be closed Wednesday, November 11, for Veterans Day. The exhibits and reception are free and open to the public. Located on Wyman Way on the Keene State campus, the Thorne Gallery is accessible to people with disabilities. To request accommodations for a disability, please call the Thorne Gallery at least two weeks before your visit. For more information, call 603-358-2720 or visit www.keene.edu/tsag.
Related Stories