Charles Appointed New Legislative Liaison to the President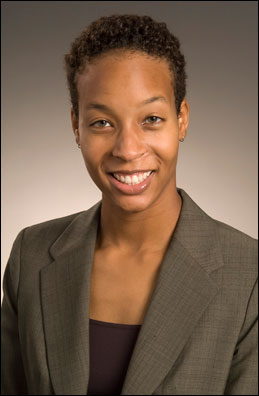 KEENE, N.H., 8/06/09 - Misha J. Charles has been named senior executive assistant and legislative liaison to the president at Keene State College. In this role she will support the activities of the President's Office, and coordinate work with legislators on the local, state, and federal level.
"I am very pleased that Ms. Charles has joined us at Keene State College," said President Helen Giles-Gee. "She brings with her an indefatigable energy, broad national experience, and sound thinking, which will contribute to the building of community inside and outside the College. Given the role's additional responsibility as the point person with government, the College is counting on her to communicate our commitment in working towards a greater collaboration that benefits the state, especially with regard to economic development."
"My role is to share information about Keene State College - our programs and the many ways we are impacting the state," Charles said, describing the new legislative component of the position. "We have many projects here that demonstrate the new ways students are applying a liberal arts education to everyday life." Two of the projects she will be focusing on this fall are the Monadnock Biodiesel Cooperative and the Regional Center for Advanced Manufacturing (RCAM).
Charles has more than eight years of experience in the higher education and nongovernmental sectors in the U.S. and South Africa and has deep knowledge in the areas of education, global learning and exchange, organizational governance, management, and institutional growth. In her most recent position as director of Planning and Board Relations for Phelps Stokes, she oversaw a major institutional transformation effort aimed at revitalizing an organization (nearly 100-years-old) that connects visionary leaders and organizations in Africa and the Americas with resources necessary to effect social change.
Prior to this role, Charles was the administrative and program associate in the Office of Education and Institutional Renewal for the Association of American Colleges & Universities (AAC&U;), where her work focused on bringing about institutional change at U.S. colleges and universities. Prior to joining AAC&U;, she was an associate lecturer at the University of Cape Town's Numeracy Centre.
Charles received her AB in history with a certificate in African American Studies from Princeton University. After graduating from Princeton, she studied at the University of Cape Town, where she earned a BA in African studies and an MA (research) in historical studies. She also holds an MA in education and human development with a focus on international education from George Washington University.
Raised in a military family, Charles has traveled extensively and lived in many places, including South Africa, seven U.S. states, and Germany. She is an active volunteer and is the vice-chairperson of the DC-based South Africa- Washington Internship Program.
Related Stories