New Heat Plant Cuts Costs, Carbon Footprint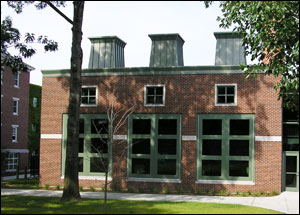 KEENE, N.H., 8/01/09 - This winter Keene State will heat its campus more efficiently, generate electricity, and reduce the College's carbon footprint. A newly constructed co-generation heat plant is expected to reduce energy costs by more than $120,000 a year and to reduce green house gases caused by campus electrical consumption by more than 500 metric tons of carbon dioxide a year.
When the steam plant that has heated the campus for nearly 100 years needed an upgrade, the design team chose to think more broadly about the assignment: How could it incorporate other energy savings? The project, which had originally focused on replacing two 46-year-old boilers, expanded into a new co- generation facility with classic lines attractive enough to be built on the original site at the center of the campus.
The new brick building blends with neighboring Fiske Hall, the College's first residence hall, and has huge glass panels that reflect the central campus quad. Inside, the two new boilers have high-efficiency burners that increase steam output with almost no waste. A control system regulates the boilers for maximum output, and they use less water. In addition to providing heat, the steam turns a turbine that will generate up to 12% of the campus's electricity.
Vice President for Finance and Planning Dr. Jay Kahn estimates a seven-year payback and a $5.6 million savings over the 30-year life of the boilers. "We could save even more if they last as long as the 46-year-old boilers they are replacing," he adds.
The $9.5 million project began in April of 2008, when contractors razed the 79-foot brick chimney of the old plant (the bricks were then recycled into road base). Construction was completed in spring of 2009.
Related Stories