Patnode Earns NFCA Golden Shoe Award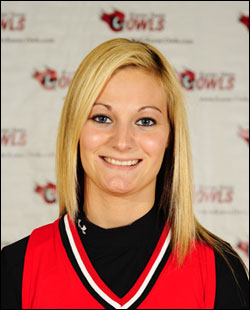 KEENE, N.H. 7/29/09 - Her Keene State softball career might have ended a few months ago, but Jenna Patnode is still stealing awards. The senior from Surry, N.H., was one of 10 student athletes who have been named winners of the National Fastpitch Coaches Association (NFCA) 2009 Golden Shoe Award.
NFCA and Adidas present the award annually to the top base stealer from NFCA member schools in each of the following divisions: NCAA (Divisions I, II, and III), NAIA, NJCAA (Divisions I, II, and III), Cal JC, Northwest Athletic Association of Community Colleges (NWAACC), and high school.
"It's a special honor, considering it's given to just one player in each division," said Patnode. "I thought this season was my most successful. As a senior I tried to contribute as much as I could. I'm lucky I have speed and can bunt when I'm not hitting well. My ability to get on base was a big key to us winning games."
"It's a wonderful honor that Jenna deserves; she worked so hard on her skills as a softball player," said KSC Coach Charlie Beach. "I'm glad she peaked during her senior year."
"I gave Jenna very little direction this year," said Beach. "I didn't tell her when to steal or bunt. She understood the Keene State offense, what needed to be done, and under what circumstances. And she took these responsibilities on herself."
Patnode, the LEC Player of the Year and an All-New England, All-ECAC, and All- Conference first-team selection, was a catalyst from her lead-off spot for the Owls. She topped the team in hitting (.423), runs (47), and hits (63), to go with a school-record 47 stolen bases in a single season. She finished her Owl career with a grand total of 99 steals. Patnode's 47 steals in 44 games was a 1.07 per-game average, ranking second in the NCAA standings. Her 47 steals were also the top total number of steals in NCAA Division III play during 2009. She was the only player in the country with 40 or more swipes last season. Patnode, who played both third base and centerfield, led a young Keene State team to a surprising 30-14 record and the ECAC New England championship this past spring.
Related Stories