Keene State Night at the Swamp Bat Game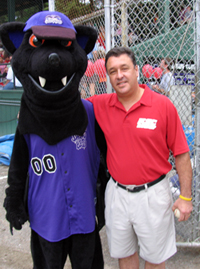 KEENE, N.H. 6/22/09 - The rain began falling around the third inning, but that didn't seem to dampen the spirits of an enthusiastic crowd that came out to celebrate Keene State Night at the Swamp Bats' game this past Saturday.
Throughout the evening, many members of the KSC and Keene community made their way over to a special Owl tent for a little reminiscing as well as to pick up some Centennial t-shirts and bags. The honor of throwing out the commemorative first pitch of the game went to former Owl soccer standout and coach Bert Poirier. "My knees were knocking a little bit," confessed Poirier, who heeded the advice of Swamp Bat coach Marty Testo by keeping it simple and throwing a two-seam fast ball.
Many alums were on hand, including recent grads Karen Carr and Jocelyne Cummings, who are spending their summer working as interns with the Swamp Bats. "I've been looking forward to this game for a while," said Carr. "It's been a lot of fun meeting so many Keene State alums."
While Carr and Cummings had a busy night coordinating many of the contests and give-aways, another alum was happy to take the night off. "I'm either coaching or scouting when I go to a game, so it's nice to sit back and relax," said KSC baseball coach Ken Howe, sitting behind home plate.
Unfortunately, the partisan crowd couldn't reverse the Swamp Bats' fortunes; they lost to the North Shore Navigators 12-4. It was the second year in a row that Keene State has sponsored a Swamp Bat game.
Related Stories