Kolacz Wins National Championship in the Hammer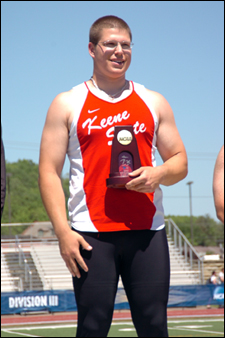 MARIETTA, OHIO, 5/21/09 - As far as Bryan Kolacz is concerned, a hearty helping of pancakes and French toast is the breakfast of champions, and New Moon, the second installment of the Twilight Saga heads the New York Times best-seller list. After digesting his morning meal and its accompanying carbs for energy and later finding solace in a few pages of the popular book series, the sophomore from Brentwood, N.H., picked up his hammer and threw it a Division III season best of 201'8" to win the national title at the NCAA Division III Outdoor Track and Field Championships at Marietta, Ohio, on Thursday afternoon.
"Bryan came in as the dominant thrower, but you still have to do it when you're out there," said KSC Coach Peter Thomas.
The championship wasn't void of drama. The sophomore provided a few anxious moments when he fouled on his first attempt, conjuring up memories of his trip to the indoor nationals when he failed to reach the finals in the weight throw after fouling in all his attempts.
This time around, Kolacz said he wasn't disappointed: "I knew it was a small error because I held onto it too long. It wasn't anything technique-wise." After collecting himself with a second toss that qualified him for finals, a confident Kolacz stepped into the circle to deliver his third throw. "I said to myself, 'This is going to be the throw,'" Kolacz said. "I just knew it. I felt so peaceful, and my body was ready."
Anxiously watching from the sidelines, Darcy Wilson, the Owls' throwing coach, knew Kolacz was about to unleash a winning throw. "About turn three you can tell he's ready to catch it," said Wilson. "He caught the finish, and that hammer just flew. This is a real landmark for him - he's been looking to break 200-feet. To do it at nationals is huge."
Leading the field by a substantial margin, Kolacz refused to let up in the finals. "I didn't think anyone would catch me, but I was still trying my best to match or improve my throw," said Kolacz, who set a Don Drumm Stadium record with his throw.
There wasn't a hammer or nail big enough to keep Kolacz from jumping up in the air after the competition had ended. "I don't think it's hit me yet," he said. "When I get to the podium and my coach hands me the award, maybe it will sink in."
The third time proved to be a charm for Kolacz. In his third trip to the NCAA Championships and on his third throw of the day, he was finally a national champion.
"I have to remind myself how hard I worked to get to this moment," said Kolacz, who never picked up the event until he arrived at Keene State as a freshman. "This was my day, and I knew I was ready."
Kolacz joins a select group of 10 national champions from Keene State. He is the first KSC men's athlete to earn the honor in a field event since Paul Trocki won the decathlon in 1979.
"It's nice to be recognized as one of the school's national champions," Kolacz said. "I'm trying to set my life up after college. Being successful in sports has carried over to my academics. I hope to be on the dean's list this semester."
Wilson feels that Kolacz has just scratched the surface of his potential in the sport. "Bryan knows what he needs to do to become a better thrower," Wilson said. "He needs to concentrate on building up his strength specific to the event."
"I'm going to take a few weeks off to let my body relax and then begin working out with a few of my friends, including a few throwers from the University of New Hampshire," said Kolacz, who serves as the lead life guard at Water Country, a water park located in Portsmouth. "I just want to come back and do it all over again, even better."
Related Stories