KSC Centennial Exhibit at the Thorne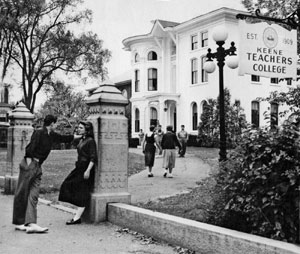 KEENE, N.H., 5/21/09 - The Thorne-Sagendorph Art Gallery will commemorate Keene State College's Centennial with a summer art exhibit of photographs and memorabilia chronicling the College and its students, faculty, and staff from 1909 to the present. In honor of the celebration, a small selection of photographs by Andy Warhol and other recent gifts to the college will be on display as well.
"Keene State College - Celebrating Our Centennial 1909-2009: 100 Years of Academic Community," and "Photographs by Andy Warhol and Other Gifts to KSC" will be exhibited June 5 through August 2, and will reopen September 12-27.
The Centennial exhibit will include large panels of photographs with brief descriptions detailing each of the10 decades of the college's history. Other panels will highlight academic departments, the arts, and community and student life, while others will detail the history of athletics, Greek organizations, and social clubs on campus. Visitors also can view an eight- minute preview to a KSC Centennial documentary by film faculty members Larry Benaquist and Lance Levesque.
The exhibit is part of a year and half of festivities to mark the 100th anniversary of the College, which began in 1909 as Keene Normal School to train new teachers, transformed itself into an institution of higher learning called Keene Teachers College in 1939, and in 1963 became Keene State College and joined the New Hampshire university system.
Displayed in the same gallery as the Centennial exhibit will be a small selection of the 150 Warhol original Polaroids and gelatin silver prints given to the gallery by the Andy Warhol Photographic Legacy Program. The Thorne was one of 183 colleges and university art museums across the U.S. to receive an unprecedented gift of Warhol art in 2008, and this is the first time the works will be on public display. The gallery will also showcase several prints which were part of the recent donation to the college by Robert P. Hubbard of Walpole, N.H.
During Reunion Weekend, the gallery will be open Friday, June 5, from noon to 7 p.m.; Saturday, June 6, from 10 a.m. to 4 p.m.; and Sunday, June 7, from noon to 4 p.m. During the summer, the gallery is open from noon to 4 p.m. Wednesday through Sunday and closed Monday and Tuesday. It will also close Saturday, July 4, for Independence Day.
The exhibits are free and open to the public. Located on Wyman Way on the Keene State campus, the Thorne Gallery is accessible to people with disabilities. To request accommodations for a disability, please call the Thorne Gallery at least two weeks before your visit. For more information, call 603-358-2720 or visit www.keene.edu/tsag.
Related Stories