Throwers Dominate Owls NCAA Track Hopes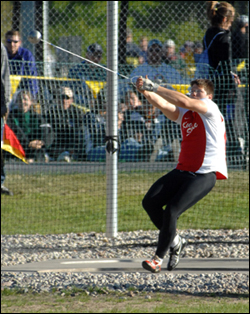 KEENE, N.H., 5/19/09 - There was a time when Keene State's distance runners stood front and center on the school's NCAA track podium. Athletes from the Owls elite cross country program shifted gears during the winter and spring seasons and became top national contenders for All-American honors in the 5,000- and 10,000-meter races. Among the first 24 men's track All-Americans at KSC, 20 earned the honor in the 5K distance or above.
These days, distance runners no longer rule the roost at Keene State. Last spring, the Owls sent six athletes to the NCAA outdoor track championships. Except for Jennifer Adams, who earned All-American honors in the 5K and 10K, the group included the national champion women's high jumper, a middle- distance runner, a long jumper, and a javelin thrower.
That trend continued this winter. Peter Najem and Craig MacPherson raced in the 800-meter and mile event, respectively, and Bryan Kolacz competed in the weight throw. Not a distance runner in the bunch.
The Owls' track and field evolution will continue at this week's NCAA Division III Outdoor Championship at Marietta, Ohio. Najem, who will run in the 800, will be Keene State's lone entry on the track. The remaining KSC contingent consists of Kolacz, a hammer thrower, and Dan Colina and Samantha Hirsh, both javelin competitors.
"The program has diversified nicely," said long-time Owl coach Peter Thomas. "I'm very proud of that."
The sudden emergence of national-caliber throwers at the school coincides with the arrival of throwing Coach Darcy Wilson. "I feel lucky Pete brought me in at this time," said Wilson, who has also worked with several Keene High athletes over the years, including Kelsey Huckins, a nationally ranked thrower now at Boston College. "I don't think we would have predicted this three years ago."
Kolacz is one of Wilson's prized pupils. Recently named the New England region Field Athlete of the Year, the sophomore from Brentwood, N.H., will be making his third trip to the national meet. The only competitor to post an automatic qualifying mark (197'5") this spring, Kolacz is looking to reach the finals in the hammer for the first time. "I'm hoping the third time is the charm," said Kolacz, who was disqualified in the indoor meet after fouling in all three of his attempts in the weight throw. "What happened to me indoors has affected the way I've approached this spring. Even in practice, I try to make each throw count."
Wilson has worked with Kolacz, replicating the sequence of events that he will experience at the NCAAs. Her tutelage appears to have paid off: In the two weeks leading up to the nationals, Kolacz has won the hammer at both New England and ECAC championships.
"I want him to get to the finals, I want him to get on the podium, and I want him to earn All-American," said Wilson. "His time will come. He needs to know you have to put it in order."
Hirsh, a senior from Holliston, Mass., will be looking to duplicate her performance last spring when she finished fourth in the javelin, earning her first All-American award.
Hirsh, who is ranked third in the event with a throw of 147'10", will follow the same successful routine as last year. "I first take a picture of the podium," she said. "While listening to music, I look at the picture and envision myself being on top of the podium." "I'm hoping experience will work in her favor," said Wilson. "She needs to go out and really attack the throws."
Keene State coaches don't know what to expect from Colina. After recording the top mark in Division III (213'10") in the Owls' opening meet of the season at Trinity College, the junior from Dover, N.H., has suffered shoulder fatigue and hasn't competed in several weeks.
"He has a tendency lately of throwing too high," said Thomas. "We tell him he needs to stop killing ducks and get his throws down."
As far as his recovery is concerned, Colina says taking the past few weeks off has been beneficial. "I've been doing exercises, and they seem to help," he said. "I just want to go out there and have some fun. All I need is one good throw."
Colina is no stranger to national competition. Prior to coming to Keene State, he competed in both junior college and NAIA meets.
The only Owl who will be running on the track, Najem, a senior from Derry, N.H., barely made in the cut in the 800-meter race. "I was sweating it out a little bit," said Najem, the last of 17 runners in the field. "I'm the last one in, so no one is expecting much from me. Maybe I can surprise some people."
Najem, a senior, would like nothing better than to complete his KSC career with back-to-back All-American honors. He placed fourth in the event indoors.
Owl throwers will find out how they'll fair early. All three will compete in the first day of competition on Thursday. Najem will race his preliminary 800 heat on Friday.
Related Stories