Owls Capture 2009 ECAC Softball Crown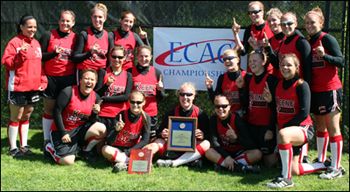 WALTHAM, Mass., 5/10/09 - Second-seeded Keene State College softball team won its first ECAC Division III New England crown with a convincing 11-1 triumph over top-seeded Brandeis on Marcus Field on Sunday in a rematch of last season's championship contest. Owl senior centerfielder and leadoff hitter Jenna Patnode (Surry, N.H./Monadnock Regional) earned tournament MVP honors after batting 8-for-15 (.533) in the tournament with six runs scored, two RBIs, and five stolen bases.
"They played with a lot of emotion throughout the tournament," said KSC coach Charlie Beach. "They had something to prove after missing the NCAA tournament and wanted to get some redemption from last year's loss to Brandeis in the championship game."
"This was the last hurrah for the seniors, and they exhorted the underclassmen to play well," he added.
"We played awesome," said Patonde. "I think we showed the NCAA the way we can play. I can't think of a better way to end my career. I had four amazing years at Keene State and loved every second of it."
"Even though we had so many freshmen, I thought this was the most talented team I've been on," said senior Katie Allenson (Clifton Park, NY/Shenendahoa). "We developed a special team chemistry that made us successful."
Keene State (30-14) got the job done thanks to a nine-run outburst in the second inning. The Owls had taken a 1-0 lead in the top of the first when sophomore RF Ashley Annis (Gilford, N.H./Gilford) took advantage of a blustery wind to hit a solo home run to right-centerfield, but they blew the game open in their next at bat. KSC sent 14 hitters to the plate, with the first 10 reaching base safely. The big blows in the frame were a two-run double to right by Patnode, followed by a two-run single up the middle by Annis. Allenson added an RBI single to the mix, her team-leading fifth of the tournament.
Brandeis (28-17) loaded the bases and scored its only run in the second inning.
Sophomore SS Katie Bradford (Lebanon, N.H./Lebanon) got the run back for Keene State in the top of the third on a single to right that plated Annis, who finished the day going 2-2 with three runs scored and three RBIs to go with her home run. Rookie hurler Courtney Savoie (Stratham, N.H./Exeter) picked up her second win of the tournament and 13th of the campaign by scattering four hits in five innings, striking out two and walking three. The Owls also turned in excellent defense, making three spectacular catches in the fifth inning, including a diving stab by Bradford at short and a charging catch by Patnode to end the game.
Related Stories