Perkins Wins People's Choice Award at Thorne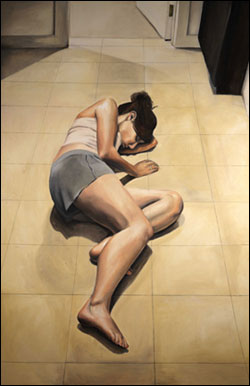 KEENE, N.H., 5/4/09 - Keene State College senior art major Analesa Perkins of Fairfield, Vt., was voted the winner of the People's Choice Award for a large oil painting called Self Portrait, displayed in "Emerging Art" at the Thorne-Sagendorph Art Gallery.
During the first weeks of the annual KSC art students' exhibition, visitors were invited to vote for their favorite work of art. Perkins won the majority of the 440 votes cast. She will receive a $100 cash award from the Friends of the Thorne along with a People's Choice Commendation.
Perkins, a bachelor of fine arts student who will graduate on May 9, paints portraits because she feels people relate more easily to portraits of others and the emotions they convey. As she explained in her artist's statement that accompanies her work on display at the Thorne, she paints people she knows.
"I don't just paint anybody, there has to be a meaning behind the portrait," Perkins said. "Even though I base the painting on a certain feeling, it's not necessary for everyone to feel the same way when they view it. I wanted the paintings to be big so that they will engage the viewer. It is important for me to have them feel as though they were standing there watching and feeling each texture."
"Emerging Art" will be on display through Saturday, May 9, when gallery hours will be extended from noon to 5 p.m. for Commencement. Normal gallery hours are from noon to 4 p.m. Saturday through Wednesday, and from noon to 7 p.m. Thursday and Friday.
Related Stories