Sawyer Gives Owl Laxwomen a Big Assist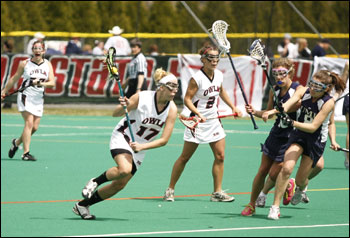 KEENE, N.H. 4/29/09 - The rain continued to pelt down as Keene State College's Lauren Sawyer grabbed her stick and headed back into the game. Despite dishing out three assists already in the see-saw contest against rival Plymouth State, the sophomore attack from Westbrook, Me., knew that her work for the day was far from over.
Plying in a game that would determine seeding and home-field advantage in the upcoming Little East Conference tournament, Keene State needed the win and needed Sawyer to continue her instinctive ball-distribution skills that have become crucial to the Owls' offensive success this season.
Cradling the ball at the top of the circle, Sawyer weighed her options. Although her vision was slightly impaired by the beads of rain and perspiration building up on her goggles, she was able to detect teammate Jill Kirk cutting toward the goal. Like a quarterback moving a team down the field with precision passing, Sawyer hit Kirk in stride with a pass. Seconds later, the ball was in the net. Kirk had a game-tying goal, and Sawyer had the Keene State career-assists record.
Sawyer has been handing out helpers since she arrived at Keene State. Finishing second on the team with 35 assists as a freshman, Sawyer has collected 54 more this spring. Amassing eight assists in a game against UMass- Dartmouth a week earlier, Sawyer not only heads into Thursday's LEC semifinal tournament game against Plymouth State as the school's game-, season-, and career-assists leader (8, 54, and 89, respectively), but she is currently second in Division III in assists per game (3.31) and third in total assists (54).
Sawyer said she developed her passing skills as a point guard on her Westbrook High basketball team. "Ever since then, I had a vision for passing rather than shooting," she said.
As far as the records are concerned, Lauren says, "It's easy to assist when you have teammates than can score every time you give them the ball."
"Lauren is an extremely unselfish player," said Kirk, who with a team-high 42 goals, has been the proud recipient of Sawyer's score-resulting passes. "She's always telling us how amazing she feels when someone else scores."
A three-sport athlete at Westbrook High, Sawyer was recruited to play lacrosse by coach Debbie Henry. "I was a softball player, and she convinced me to try lacrosse," Sawyer said. "Once I started to play, I wanted to be the best."
Originally a defender, Lauren quickly displayed the passing and shooting skills that eventually earned her a spot on the Blue Blazers attack. "I coached her in eighth-grade basketball and could already see her court vision and passing skills developing," said Henry. "That's a gift you usually don't get, especially at that age."
Lauren spread her love for the lacrosse around town and single handedly started going after the best athletes in Westbrook to try the sport. "Since then our numbers have risen each year, and a lot of that has to do with Lauren and her passion for the game," said Henry. Sawyer brought her passion to Keene State. Coming off the bench in her first few games for the Owls, Sawyer moved into the starting line-up and has been there ever since. As her experience grew, so did her assists.
In addition to benefiting from a plethora of scoring options, Sawyer has also heeded the advice of first-year coach Katie Arsenault. "I'm always preaching patience to her, taking her time and making the right pass," said Arsenault. "Her hard work has paid off."
Goals and assists aside, Keene State (10-7), which can tie a school record for consecutive wins (7) on Thursday, knows it must also play a strong defensive game against the Panthers to reach the LEC finals for the first time since 2004. "We definitely have the skill and desire to reach the finals, but we all have to be on the same page," said Sawyer.
An elementary education major at KSC, Sawyer hopes to return to Westbrook and become the school's lacrosse coach. In the meantime, she'll be busy lending an assist to the Keene State program. "This season isn't even over, and Lauren still has two more years," said Kirk. "I can't imagine how high the assists record will be."
Related Stories