12th Annual Hildebrandt Holocaust Studies Awards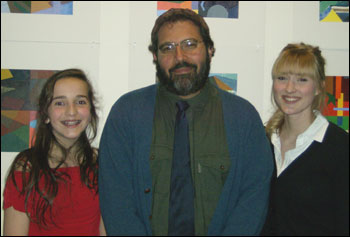 KEENE, N.H., 4/23/09 - Three Keene State College students, an eighth grader from Monadnock Regional High School, and a storyteller from Shelburne Falls, Mass., received awards at the 12th Annual Hildebrandt Holocaust Studies Awards Program on Monday, April 20, at Keene State College. The awards program, named for the late Charles Hildebrandt, who founded KSC's Center for Holocaust Studies in 1983 and served as its first director, remembers the Holocaust by way of student and community art and scholarship.
Hannah Bush, 14, from Richmond, N. H., received the $300 Community School Award. The eighth grader at Monadnock Regional Middle School was recognized for her entry, an original song entitled "Be a Witness."
David Arfa, from Shelburne Falls, Mass., received the $300 Community Member Award. His storytelling entry, "The Jar of Tears," is based on the life of Rabbi Kalonymus Kalman Shapiro, the Rebbe of the Warsaw Ghetto. Rabbi Shapiro did not survive the war, but his sermons did - preserved in a milk jug, with a request that these teachings reach a wider audience.
Meagan Blais, a KSC Junior enrolled in Keene State's new Holocaust and Genocide Studies major, will be one of the first undergraduate students in the U.S. to earn a B.A. degree in Holocaust and Genocide Studies. Her personal essay, "Inheriting the Holocaust," received a $500 award. The essay explores the burden of shame that accompanies bearing witness to the Holocaust, both personally as a scholar and for the generations that follow the victims and survivors of the Holocaust.
KSC students Jessica Howard and Becky Midler shared a $500 award for "Unearthed Sense," an original dance that they choreographed and performed. Their interest in the Holocaust began when they participated in "Inspired by Kaddish," a dance performance this past fall, and continued after they viewed the Samuel Bak exhibit at the Thorne in November. The dance was representative of two individuals going through the same, but separate, struggle and takes place within a border of empty shoes.
For more information visit the website, or contact Margaret Barney, 603-358-2490, mbarney@keene.edu.
Related Stories