Keene State's Trutor Swims at NCAA Championships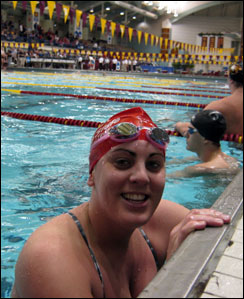 MINNEAPOLIS, MINN., 3/21/09 - Kristine Trutor swam her way into the Keene State College record book last week by becoming the first Owl women's swimmer to score at the NCAA Division III Swimming and Diving Championships.
Competing in three events at the meet at the University of Minnesota Aquatic Center, Trutor, a junior from Holden, Mass., qualified for the finals in the 100 butterfly, placing 14th with a school-record time of 57.09. She just missed reaching the finals in the 100 back, placing 17th in a school-record time of 57.88, and wrapped up her trip by finishing 35th in the 200 backstroke.
Keene State Coach Jack Fabian said Trutor will benefit from her experience at the NCAA Championships. "Krissy wants to come back next year and do better," he said. "She knows what she has to work on to improve and get in the top eight."
"When you consider the competition, I was really excited about scoring," said Trutor. "I didn't expect to do so well in the 100 fly. I'm going to work hard to come back next year. Hopefully, more members of the team will qualify."
Trutor is the second KSC women's swimmer to qualify for the NCAA Championships. Freshman Rachel Mondello raced in the 50-freestyle event last year.
Related Stories