MacPherson and Najem: Track All-Americans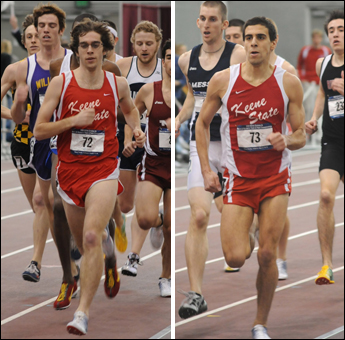 TERRE HAUTE, IND., 3/14/09 - Sophomore Craig MacPherson and senior Peter Najem, both from Derry, N.H., added their names to the long list of Keene State All-Americans at the NCAA Division III Track and Field Championships at Rose-Hulman Institute of Technology in Terre Haute, Indiana, on Saturday (March 14, 2009).
MacPherson earned his second All-American in the mile, while Najem, competing in the 800-meter race, claimed his first honor.
For the second year in a row, MacPherson finished third in the mile. This top- seeded runner moved into the third spot at the start and maintained the position throughout the race. Peter Kosgei, a junior from Hamilton (N.Y.) College, won the race with a time of 4:08.58. Second-place Brian McConnell, a senior from Elmhurst (Ill.) College, posted a time of 4:09.30, and MacPherson placed third with 4:09.81. "I tried to stay near the front as long as I could," said MacPherson.
"When Kosgie flew by me, I knew that was the end of my championship dreams. McConnell then got by me down the stretch. You take what you can get, and on this day the best I could do was third place." Making his first trip to the national meet, Najem wouldn't be denied his All-American award. Seeded sixth in the event, he took the lead going into the second lap.
"It was a surreal feeling," he said. "I didn't know what to do." Najem eventually surrendered the lead, but held on for his fourth-place finish. "I wish I was a little closer, but overall I was happy with the way I ran today," he said.
Najem finished the race with a time of 1:54.37. Jimmy O'Brien, a senior from Ohio Northern, won the race with a time of 1:53.34. Najem said competing at the NCAA Championships was an overwhelming experience. "I would've been ecstatic finishing eighth, so getting fourth was icing on the cake," he said. "This is going to make my spring break very enjoyable."
KSC Coach Peter Thomas said he was pleased with the effort of his two runners. "Both ran competitive races and did as well as they could," he said. "In the end, that's all you can ask."
Keene State sophomore thrower Bryan Kolacz (Brentwood, N.H.) failed to qualify for the finals in the 35-lb weight throw event. Kolacz was disqualified in all three of his attempts.
With the addition of MacPherson and Najem, Keene State's list of indoor track All-Americans now stands at 32. Combining both indoor and outdoor track, the number grows to 55.
Keene State finished the meet with 11 points, which put the Owls sixteenth in the team standings. Wisconsin-Oshkosh and Wisconsin-LaCrosse shared the men's team title with 32 points each. Wartburg College of Iowa won the women's championship with 51 points.
Related Stories