Trutor to Swim at NCAA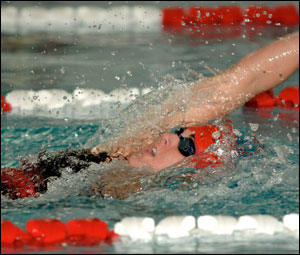 KEENE, N.H., 3/6/09 - Keene State's Kristine Trutor saw her perseverance pay off on Friday.
Healthy for the first time since coming to Keene State, the junior from Holden, Mass., learned she had earned a berth in the NCAA Division III Swimming and Diving Championships that takes place at the University Aquatic Center on the campus of the University of Minnesota, March 18-21.
Trutor was excited to hear the news. "I've been hoping to go for the past two years," she said. "I made the cuts, but haven't made it place wise." Trutor, who qualified in the 100-yard backstroke, will also have the opportunity to compete in the 100 butterfly and 200 back events.
This is the second-straight year the Owls have sent a swimmer to the nationals. Rachel Mondello earned a spot in the 50 freestyle last season. "We were hoping to make it two years in a row," said KSC Coach Jack Fabian. "It's been a long road for Krissy to get up to speed, and now she's there."
Injuring her shoulder in a freak accident after a standout career at Wachusett Regional, Trutor swam through the pain before having surgery following her freshman season at KSC. Rehabbing through most of her sophomore year, she came into this season ready to make waves. In early December, Trutor set three individual backstroke records to lead Keene State to its third-straight Little East Conference Championship. Two weeks ago, she won three individual backstroke races, swam on four winning relays, and earned Swimmer of the Meet honors, leading the Owls to their second-straight NEISDA crown.
"This is the first year I was able to do all the practices and not get out of the pool," Trutor said. "I just tried to focus on getting faster and faster." Trutor is hoping she'll go fast enough to earn All-American honors. "Since I got to Keene, the only thing I've been thinking about is being in the top eight and earning All-American," she said. Trutor is seeded 18 out of 28 swimmers in the tight 100 back race. "I'm keeping my fingers crossed that I can do it."
Up until last year, Keene State had a limited history at the NCAA championships. Diver Diana Robbins qualified three-straight years in the early eighties. In 1975, Ron Demers earned All-American honors in the breaststroke. A year later, Demers won the award again and joined Dave Hague, Carl Arlig, Dan Caron, and Newell Roberts as a member of KSC's All-American 400-freestyle relay team.
"I told Krissy that she will get one of two headlines after the championship: 'Trutor Makes All-American' or 'Trutor Fails to Make All-American,'" said Fabian. "She told me she wants the good headline. I know she's going to give it everything she's got."
Related Stories