Owl Women Capture NEISDA Championship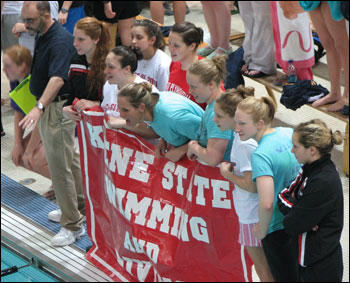 NORTH DARTMOUTH, MASS. 2/22/09 - Thirteen proved to be a lucky number for the Keene State College women's swim team this weekend. The 13-member Owl team overcame the depth of Bentley College to capture its second consecutive New England Intercollegiate Swimming and Diving Association (NEISDA) Championship at the Tripp Athletic Center Pool on the campus of UMass-Dartmouth on Sunday. Keene State also won the NEISDA title in 2001.
An exhausted Owl squad mustered enough energy and determination on the final day of competition to hold off the Falcons of Bentley 910-830. Twenty-two teams scored in the meet. "Pulling off this championship with just 13 swimmers is something special," said an elated KSC Coach Jack Fabian after the meet. "We just kept on piling up wins all weekend, and that made up for our lack of depth."
"Everyone wanted it so badly," said junior Kristine Trutor (Holden, Mass.), who was named the swimmer of the meet. "We knew we had to dig down deep to win. I'm so proud of this team."
The Owls set four school records and established one meet and pool mark on Sunday. They won three races, including the 400 freestyle relay, the final race of the meet, to claim the crown.
"I knew everyone was tired going into the relay, so I asked Jackie Foster (Bedford, N.H.) to fire up them up," said Fabian. "She just turned to me and said, 'Don't worry about it, we'll get it done.'"
The Owls did just that. Juniors Trutor and Foster teamed with freshman Maureen O'Leary (Nashua, N.H.) and Jillian Whitaker (Gilford, N.H.) in a pool and school record time of 3:35.77. Two-tenths shy of an NCAA championship qualifying mark. O'Leary, who normally swims butterfly, took six seconds off her freestyle time to help KSC gain the victory.
Earlier in the day, Trutor and Foster won individual events. Trutor set a school and meet record with her first-place finish in the 50 backstroke (26.89), and Foster swam to a victory in the 1,650 freestyle race (17:49.57). Sophomore Jessica Laidley (Brockton, Mass.) placed second with a time of 18:05.05.
Several Owl swimmers picked key points and prevented Bentley from adding to its score total. Junior Alea Paddock (Newbury, N.H.) finished ahead of two Falcon competitors with her second place finish in the 200 breast. She set a school record in the event (2:27.93) in the morning trials.
O'Leary also set a school mark (2:11.89) with her runner-up performance in the 200 butterfly. She was sandwiched in between two Bentley swimmers in the race.
The season isn't over for several Owl swimmers. They will know in two weeks if their provisional qualifying times will be good enough to get them a spot in the NCAA Division III championships that take place in Minneapolis March 18-21.
"I'm pretty exhausted right now," said Trutor. "But I don't mind. I'll be back in the water in a few days."
Related Stories