Caulfield Wins People's Choice Award at Thorne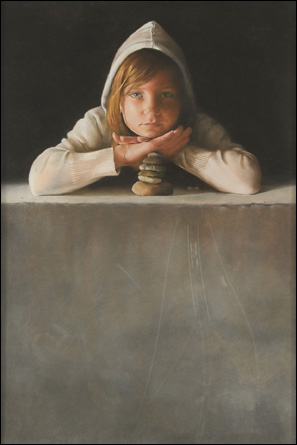 KEENE, N.H., 2/16/09 - Nicole Caulfield of Keene has been chosen the winner of the People's Choice Award for her oil painting Zen in the 2009 Biennial Regional Jurors' Choice Exhibition at the Thorne-Sagendorph Art Gallery. Caulfield, a still-life and portrait artist, won this award based on votes by visitors to the regional exhibition, which continues through Thursday, Feb. 26.
Out of 319 votes cast, Caulfield's colored pencil drawing of her oldest daughter, Katie, who attends Symonds School in Keene, received the most ballots. She will receive a $100 cash award along with the People's Choice Commendation. The Friends of the Thorne sponsor this award as well as the $500 Jurors' Best of Show prize Caulfield won for the same work.
Caulfield says on her website that she is drawn to realism because of the beauty of the ordinary world and the challenge of rendering it. "The beauty of ordinary objects lit perfectly sitting on a table, the light hitting a child's eyes so that sparkle comes through, the light bouncing around the inside of a box - these ordinary, yet spectacular, moments inspire me to create a piece of artwork," she explains. "Then there is the challenge of creating the piece. I wish everyone who looked at my work could experience the joy I have in creating it: from the sweet anxiety of the very first pencil stroke, to the exciting point in which the image starts to become 3-D, and, finally, the bittersweet conclusion of that last stroke. If they could feel that, then they would understand me."
Caulfield's work is shown regularly in New England galleries, including the Monadnock Fine Art Gallery in Keene and the Sharon Arts Juried Gallery in Peterborough. Her work has appeared nationally and internationally in exhibits such as the Catharine Lorillard Show and Salmagundi Show in New York City; the Guild of Realism Show in Scottsdale, Arizona; and the UKCPS Show in Nottingham, England, where she won first prize in 2007. She teaches her colored pencil techniques locally at Artworks in Keene and at the Sharon Arts Center. She holds a bachelor's degree from Northern Illinois University School of Art.
Her painting is one of 71 pieces by 61 artists selected for the exhibition by jurors Gail E. Sauter from Kittery, Maine, a master pastelist and a Copley artist, and contemporary artist Bert Yarborough from Hartford, Vt., an associate professor of art at Colby-Sawyer College. The jurors chose these works from among 329 artworks submitted by 174 artists who live within 30 miles of Keene or are Friends of the Thorne.
The Thorne Gallery is open noon to 4 p.m. Saturday through Wednesday and noon to 7 p.m. Thursday and Friday. The exhibit is free and open to the public. For information, call 603-358-2720.
Related Stories