College and Keene Community Show Support for Dallas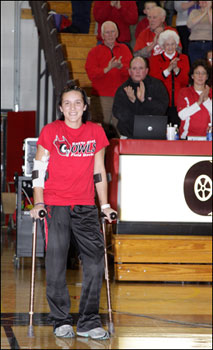 KEENE, N.H., 2/11/09 - Basketball served as a backdrop for the College and the Keene community, which came out to support one of their own on Tuesday night.
On hand to watch the Owls take on rival Plymouth State, a capacity "Code Red" crowd opened up their hearts and their wallets for Keene State field hockey player Erin Dallas. Making donations in lieu of ticket purchases, as well as through T-shirt sales and a 50-50 raffle, fans showed their support for the two-time KSC All-American from Marlow, who developed a post-surgical infection following an ACL operation in December. Since that time, Erin has been hospitalized and has had multiple operations.
"It's amazing," said KSC field hockey coach Amy Watson. "I can't believe the way everyone is pitching in and really reaching out to her. What she is going through is devastating, and the College and community support is phenomenal."
Teammates, coaches, and staff, many of whom had decorated Dallas' hospital room with cards and flowers, spent the evening coordinating fund-raising activities. "It's a way to do something positive and show how much we love her," said teammate Lindy Caslin. "She's a big part of the team and we miss her," added Leigh Smith.
Midway through the second half of the women's game, Dallas, who had spent 50 consecutive days in the hospital, made an unexpected appearance in the gym. "When I found out I could go out, I wanted to try and come over," said Dallas, who was greeted and hugged by her teammates.
Speaking about her recovery, Dallas said she is feeling much better. "I have another surgery coming up, but in the meantime, I'm working real hard rehabbing and getting motion back in my leg."
Dallas, walking with the aid of crutches, received a pair of standing ovations from the crowd, once at the start of the men's game, and later as one of the many KSC fall athletes who were being honored at halftime.
Dallas called the event "very supporting and touching."
Dallas's final job for the night was to reach into a large bowl and pick out the winner of the 50-50 raffle. The lucky ticket, worth $408, belonged to Melissa Small, a sophomore member of the women's basketball team from Saco, Maine.
Making her way to center court to receive her winnings, Small surprised the crowd by handing the money right back to Dallas.
"I wasn't expected to win, but my friends and I were saying, 'I hope whoever wins gives the money back to Erin, because that's the point of the night,'" said Small about her kind gesture. "So when they called my number, I was glad to give it right back to her. She deserves it."
When the tally was finally calculated, Dallas and her family received $3,855 to help cover medical expenses.
Throughout the night, teammates and athletes from other Owl teams spoke about the magic that Dallas could perform with a field hockey stick in her hand. Small, who had seen Dallas play several times, called her an amazing athlete. "As an athlete, I can only try to comprehend what Erin is going through - coming to grips with the possibility that she might not be able to play the sport she loves."
"It just proves how much we take for granted," she added. "I can't complain anymore about coach making me run sprints, because I can run sprints."
Related Stories