Athletic Alums Return to Spaulding Gym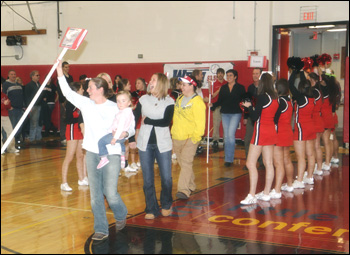 KEENE, N.H., 1/27/09 - Last Saturday was alumni day for several former Keene State athletes who took part in a special recognition ceremony at halftime during the Owl men's basketball game against Southern Maine.
Representing their respective sports, the alums received a warm greeting from the fans at the game.
It was a day for recognition and reminiscing. "I love coming back to the college," said Mary Lou Moscaritolo '75, a former Owl gymnast, who is now a nationally rated judge. "It's a great day to talk to people that you knew through sports."
The athletes span the many decades of Keene State athletics, including an era at Keene Teacher's College when intramural Red & White games preceded intercollegiate competition. Norma Walker '51, a four-sport athlete, said upon admission students were assigned to either the red or white team and participated in highly competitive contests. Walker, an all-star player who served as head of basketball, is still involved with the KSC alumni office and coordinates the Golden Circle luncheons.
Many of the athletes stay involved in their sport. Sarah Testo '00 is in her seventh season as assistant soccer and strength and conditioning coach at her alma mater, and teammate Katelyn Haggerty '99 reports that she just completed her first season as women's soccer coach at Emerson College.
Several former men's basketball players from the 50s were also in attendance, including Jesse Evangelou '54, Paul Bushey '56, Rollie Hadwick '57, Bob Hall '57, and Bill DiGiulio '59. Bushey recalled playing in the old band-box Spaulding Gym, while Hall remembers enthusiastic fans lining up outside the gym to attend the games. Asked why the team members have stayed in touch over the years, team manager Harold Hapgood '54 cited "a common interest as educators and in sports."
There was also a large contingent of former soccer players on hand. Getting set to celebrate his 30th reunion later this summer, Vic St. Pierre '79 said he still uses many of the life skills learned in college. Dick Bush '73 says he gets a chance to travel to Keene and likes to stop in to see Coach Ron Butcher. In the "How things never change department," Hal Shortsleeve '73 said he's amazed that his college soccer coach is still here. In the "How things have changed department," baseball player Sal Grasso '54 remembers when meal money was a dollar.
There was plenty of talk about championships past. Shortsleeve was a member of a pair of KSC soccer teams that advanced to the NAIA national tournament; Hall spoke about the 1954-55 basketball team that won the New England Teacher's Conference championship. Jim Baker '71 readily recalls pitching for the Owl baseball team that claimed the 1970 NESCAC title, and Chad Bamford '93 talked about the Owls legacy as a national cross country juggernaut.
But on this day, all the former Keene State athletes were champions. Their contribution helped pave the way for the College's continued success today. "It's very enlightening to come back to the campus and see how well the program is doing," said Bushey. "As an alum, you take a lot of pride in their success."
Related Stories