Winners of the Thorne's Juried Exhibit Announced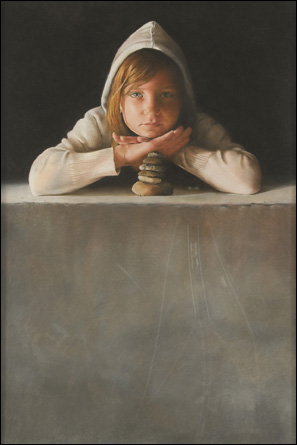 KEENE, N.H., 1/23/09 - Eight artists from New Hampshire, Vermont, and Massachusetts received jurors' awards at a Friday, Jan. 23, reception opening the 2009 Biennial Regional Jurors' Choice Exhibition at the Thorne-Sagendorph Art Gallery.
Jurors Gail E. Sauter from Kittery, Maine, a master pastelist and a Copley artist, and contemporary artist Bert Yarborough from Hartford, Vt., an associate professor of art at Colby-Sawyer College, chose three top awards and five honorable mentions. Sauter and Yarborough also chose 71 pieces by 61 artists for the regional exhibition which continues through February 26. The works in the exhibit range from traditional landscape paintings and photographs to contemporary sculptures and montages. The regional competition, open to artists who live within 30 miles of Keene or are Friends of the Thorne, drew 174 artists to submit 329 works of art.
Nicole Caulfield of Keene won the Jurors' Best of Show Award for Zen, a colored pencil work. The $500 prize for this award is sponsored by the Friends of the Thorne.
Patricia Schappler of Bedford, N.H., was awarded second place of $300 for Heading Downtown, an acrylic painting.
Ronnie McClure of Canterbury, N.H., received third place of $200 for Crossing, an ink and colored pencil work on rag paper.
"Ours was a challenging task! The quality of the entries was high, combined with a large number of wonderful pieces," explained Sauter and Yarborough in a statement that opens the exhibit. "We were impressed by the variety as well as the high technical and conceptual competency of the work. It's inspiring to see such an outstanding level of professionalism in the region."
In addition to the three winners, the jurors also selected five artists for honorable mention, which each carry a $25 cash award. Honorable mentions include:
Jim Coates of Lyndeborough, N.H., for In the Woods, a sculpture made of handmade paper and wood;
Christine Neill of New Ipswich, N.H., for Three Days, a watercolor painting;
Leonard Ragouzeos of Newfane, Vt., for Adirondack Chair, a drawing in India ink on paper;
Carol Lightfoot Ross of Rindge, N.H., for Faces of the Iraq War, a fabric art quilt; and
Susan von Glahn Calabria of Mount Hermon, Mass, for Black and White, an Acryla and gouache work on paper.
Visitors to the regional jurors' exhibit are invited to vote for a People's Choice Commendation. The artist winning this $100 prize will be announced February 12.
The exhibit also features Selections from the Hubbard Collection, which showcases a sample of the 56 works recently donated to Keene State by Robert P. Hubbard of Walpole, N.H. The Collection includes paintings, drawings, prints, and sculpture by a variety of artists such as Elaine de Kooning, Albert Hirschfeld, William Hogarth, Francisco de Goya, N. C. Wyeth, and others. The Singer, a sculpture by David Aronson, has been installed in front of the Redfern Art Center where it greets all passersby.
The Thorne-Sagendorph Art Gallery is located on the Keene State campus on Wyman Way, off Main Street in Keene. Gallery hours are from noon to 4 p.m., Saturday to Wednesday, and noon to 7 p.m., Thursday and Friday.
The Biennial Regional Jurors' Choice Exhibition and Selections from the Hubbard Collection are free and open to the public. For more information, call 603-358-2720 or visit www.keene.edu/tsag.
Related Stories