The Matchmaker Selected for Theatre Festival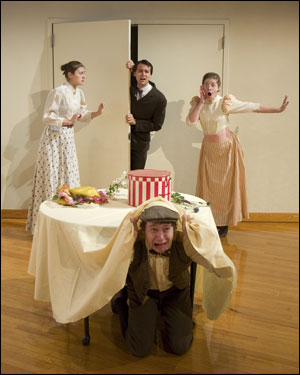 KEENE, N.H., 01/15/09 - Keene State College students, staff, and community members from the fall production of Thornton Wilder's The Matchmaker have been invited to participate in the Region I Kennedy Center American College Theatre Festival to be held at Fitchburg State College in Fitchburg, Mass., Jan. 27-Feb. 1.
The festival brings students and faculty together to see some of the area's strongest productions, participate in workshops, and compete in a variety of areas in theatrical performance, design, and production.
Keene State College was honored to be one of five New England colleges selected from the 116 adjudicated for inclusion in the festival. Regional productions are adjudicated by a national committee and may be selected to participate in the national festival in Washington, D.C., in April 2009.
During the festival, The Matchmaker will be staged at The Dukakis Center in Fitchburg, Mass., on Friday, Jan. 30, at 8 p.m. Admission is $10 and is open to the public.
To help the cast raise funds for attending the festival, The Matchmaker will be staged at Keene State's Redfern Arts Center on Brickyard Pond on Jan. 24, at 7:30 p.m. Admission will be by donation at the door. If you cannot attend the performance and would like to help, donations can be mailed to the KSC Theatre and Dance Department with a memo noting "The Matchmaker fund," Keene State College, 229 Main St., Keene, 03435-2407. For more information, call the Theatre and Dance Department at 603-358-2162.
Related Stories