Cohen Center Commemorated With Exhibit at Thorne-Sagendorph Art Gallery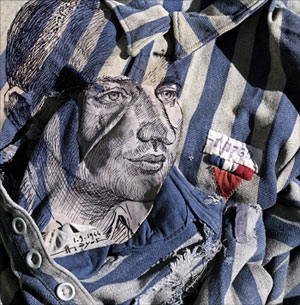 KEENE, N.H., 10/28/08 - Three New England artists whose works are influenced by the Holocaust will be showcased in an exhibit at the Thorne-Sagendorph Art Gallery commemorating the 25th anniversary of the Cohen Center for Holocaust Studies at Keene State College. Samuel Bak, an artist and a Holocaust survivor; Leslie Starobin, an artist and photographer who creates montages inspired by family and history; and photographer Clemens Kalischer, a member of One by One, an organization that brings together the children of Holocaust survivors and German families, will display their work in "Facing the Holocaust: 25 Years of the Cohen Center at Keene State College" from Friday, Nov. 7, through Sunday, Dec. 7. An opening reception, hosted by the Friends of the Thorne, will take place from 4:30 to 6:30 p.m. on Thursday, Nov. 6, at the Thorne Gallery.
Bak was born in 1933 in Vilna, Poland, which came under German occupation in
Bak and his family moved into the Vilna ghetto, and later to a labor camp, from which he was smuggled and given refuge in a monastery. At the end of the war, his mother and he were the only members of his extensive family still alive. Bak now lives in Weston, Mass., and has spent his life dealing with the artistic expression of the destruction and dehumanization that make up his childhood memories. His work speaks about what are deemed to be the unspeakable atrocities of the Holocaust.
Starobin, who lives in Needham Heights, Mass., is a professor of communication arts at Framingham State College. She explains that she creates montages, which straddle the crossroads between analog and digital, photography and painting, realism and abstraction, fact and fiction, past and present, war and peace. Her work is inspired by places steeped in family memory, enriched by artistic and literary tradition, and central to world history and current events. The Last Address, based on Holocaust survivors' final memories of family and friends, is Starobin's most recent series of montages and will be displayed in part at the Thorne. The Last Address series was supported in part by a research award from the Hadassah-Brandeis Institute at Brandeis University in Waltham, Mass.
Kalischer, a freelance photographer, was born in Bavaria, Germany. He left Berlin with his parents in 1933 for Paris, where he studied until the country fell to Germany during WWII. After escaping from France, he came to the U.S. in 1942. He studied at Cooper Union and the New School in New York. As a trilingual photojournalist, he covers a wide range of subjects worldwide and has a special interest in agriculture, architecture, education, environment, music, religion, and socio/economic issues. He works extensively for institutions of higher education, such as Bennington, Georgetown, Hampshire, Harvard, Mt. Holyoke, and Rensselaer Polytechnic, and at many private high schools. His early photographs chronicle the arrival of Holocaust refugees in the United States in the late 1940s. Later work includes photographs of everyday scenes in New York and impressions from his travels in Europe, images which hone in on people and the circumstances in which they live.
Also on exhibit at the Thorne through Nov. 23 is "African/American Influences: The Art of Faith Ringgold," showcasing this African American artist's story quilts, oil paintings, works on paper, and soft sculpture, such as masks and dolls.
The exhibits and reception are free and open to the public. The gallery is open from noon to 4 p.m. Saturday through Wednesday, and noon to 7 p.m. Thursday and Friday. On Saturday, Nov. 1, during the KSC Children's Literature Festival, hours will be extended from 11:30 a.m. to 5 p.m. The gallery will be closed Nov. 11 for Veterans Day and Nov. 26 - 30 for Thanksgiving. For information, call 603-358-2720 or visit www.keene.edu/tsag.
Related Stories