Faculty Exhibit Pays Tribute to Retiring Professors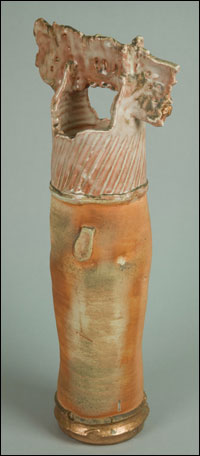 KEENE, N.H., 1/07/08 - The 2008 Biennial Keene State College Art Faculty Exhibition will pay tribute to two longtime art professors, Samuel Azzaro and Henry Freedman, who both recently retired after more than three decades teaching college students the finer points of fine art. The KSC Art Faculty show will also include recent studio art and graphic design works by Rachelle Beaudoin, Rosemarie Bernardi, Richard Carlson, Dan Carr, William Cass, Mary Kendra Crawford, Karen Dolmanisth, Marsha Hewitt, Robert Kostick, Ann Laroche, Stephanie Nichols, Walter Nicolai, Yuan Pan, Christa Parravani, Lynn Richardson, John Roberts, Katharina Rooney, Peter Roos, and Craig Stockwell.
The exhibit opens Sat., Jan. 26, and continues through Sun., Mar, 9, at the Thorne-Sagendorph Art Gallery on the Keene State campus. The Friends of the Thorne will host an opening reception Fri., Jan. 25, from 5:30 to 7:30 p.m.
Freedman, who taught art history for 37 years and retired in December, will present his final lecture, "An Art Historian's Circus," at Keene State as part of the faculty exhibit. The Department of Art will sponsor Freedman's slide lecture, which will detail his favorite historic works of art, on Mon., Feb. 11, at 7 p.m. in the Thorne Gallery conference room.
One of the Thorne's two galleries will be set aside to showcase works by Freedman and Azzaro, who taught ceramics for 38 years at the College and retired last spring. Azzaro will show a variety of ceramic works that span a long art career that began before he came to Keene State in 1969. His works range from a 1964 earthenware bottle to a 2007 oval stoneware vase. He will also display photographs taken in China, Hawaii, Chicago, and Maine.
Freedman, who started teaching at KSC in 1970, specializes in mixed media works that resemble shadow boxes containing treasured items that tell a story. His works on exhibit also span his art career, including a 1978 mixed media work titled Prize and a 2007 piece called A Contortionist's Safe Deposit Box. He will also show more recent pencil drawings.
The 19 other art faculty members will exhibit a broad range of works from installation pieces to large paintings, drawings, monoprints, computer art, ceramics, and sculpture.
The exhibit, reception, and lecture are free and open to the public. The Thorne Gallery, located on Wyman Way, is open from noon to 4 p.m. Saturday through Wednesday and noon to 7 p.m. Thursday and Friday. The gallery is accessible to people with disabilities. To request accommodations for a disability, please call the gallery at least two weeks before your visit. For more information, call 603-358-2720 or visit www.keene.edu/tsag.
Related Stories