Owl Hoop Teams To Host Tip-Off Tournaments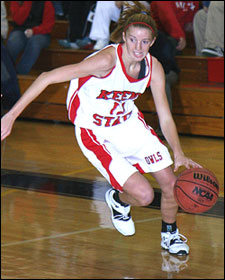 KEENE, N.H., 11/14/07 - Keene State College men's and women's basketball teams will begin their respective 2007-08 seasons by hosting tip-off tournaments this weekend at Spaulding Gym.
The 12th annual PC Connection Keene State Women's Basketball Tournament gets underway on Friday with the Owls facing Mount Ida College of Newton Centre, Mass., at 3 p.m. Castleton (Vt.) State will take on Fitchburg State College in the other first-round game at 5 p.m. Consolation (1 p.m.) and championship games (3 p.m.) are scheduled for Saturday.
The eighth annual KSC Men's Basketball Tournament tips off at 7 p.m. on Friday with Keene State going up against Lesley University from Cambridge, Mass. Salve Regina (R.I.) University will take on Lasell College from Newton, Mass., at 9 p.m. The tournament concludes on Saturday with consolation (5:30 p.m.) and championship games (7 p.m.).
The Owl women, who have won their tournament 10 out of the past 11 years, are adjusting to life after the loss of All-LEC players Sarah Begnoche and Bri Barnes. "We have several sophomores who need to step up and fill the void," said KSC Coach Keith Boucher. "Our focus right now is to get better and play to our potential."
All four teams in the tournament are coming off fine seasons. KSC brings back two starters and nine letter winners from last year's 22-7 (11-3/2nd LEC) team that tied a program record for wins and advanced to the second round of the NCAA Tournament. Boucher will look to LEC Rookie of the Year Kristin Degou to lead the way.
Led by WBCA Coach of the Year Walter Paschal, Fitchburg State (26-3) set a record for wins and got to the second round of the NCAA Tournament. Castleton State (19-9) earned a berth in the ECAC Tournament, and Mount Ida (10-15) makes the jump from the North Atlantic to the Great Northeast Conference this year.
Keene State defeated Western New England 81-65 to claim last year's Invitational Championship.
The Keene State men's team will be looking to capture its seventh straight tip-off title. Coach Rob Colbert said there are a lot of uncertainties as the Owls start their season. "We're still trying to find out who's going to be playing what position and what their roles will be," he said. "But the guys have been giving us great efforts, so I'm excited about that."
Keene State (25-6, 11-3 LEC), which tied the program record for wins and advanced to the Sweet-16 of the NCAA Tournament, will be led by preseason All- America and LEC Player of the Year Tyler Kathan.
The remaining tournament teams are an intriguing mix. Lesley University (14-13) returns a solid core of veteran players that helped the Lynx lead the NAC in points per game, steals per game, and three-point field goals made per game. Colbert Lynx, the Lynx's Joe Chatman, will be one of the top guards his team faces all year.
Lasell College (16-12), which posted a regular season win over Williams, earned the Lasers' their second appearance in the ECAC Tournament. A competitive program in the Commonwealth Coast Conference, Salve Regina (13-13) is led by All-CCC guard Chris Goodridge, who led the Seahawks in assists (119) and steals (73) and was second on the team in scoring (13 ppg.).
Keene State defeated Lesley 109-75 to win last year's tournament championship.
Related Stories