West African World Music Artist Alpha Yaya Diallo at Keene State's Redfern Arts Center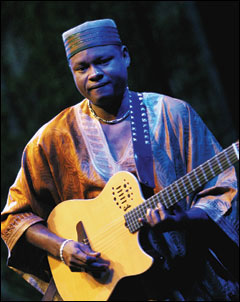 KEENE, N.H., 10/9/07 - One of the hottest acts on the current world music scene, Alpha Yaya Diallo will appear at Keene State College's Redfern Arts Center on Brickyard Pond, Wednesday, October 24, at 7:30 p.m. Hailing from Guinea, West Africa, Diallo now makes his home in Vancouver, British Columbia, where he has earned all the top world music recording awards in Canada. His appearance at the Redfern with his band The Bafing Riders and West African dancer Jacky Essombe is part of a five-stop tour of New England.
The company will be in residence for two days. On October 23, Essombe will conduct a master class in West African dance at Keene's Moving Company Dance Center. Essombe will also conduct a master class for KSC dance students on October 24. The entire company will conduct an open rehearsal and lecture demonstration on West African guitar and percussion at the Redfern Arts Center from 2 to 3:40 p.m. For more information and time for the Moving Company master class, call 603-357-2100.
The residency is made possible through the Support of the New England Foundation for the Arts Expeditions program, Peerless Insurance, the Class of '39 Fund, and the KEA International Education Fund.
Alpha Yaya Diallo has earned a matchless reputation internationally for the excellence of his musicianship and the excitement of his live shows - whether performing solo or with his band. Diallo is a unique, multitalented artist. His dexterous acoustic and electric guitar-playing, with its fluid melodic lines and compelling grooves, places him in the front ranks of African axemen.
In addition, he is a skilled and experienced performer on a variety of percussion instruments and on the balafon (a traditional wooden xylophone). To complete the abundance of riches, Diallo writes his own compositions and sings with a supple and beautifully modulated voice.
Originally from Cameroon, Essombe grew up in Paris and now lives in Vancouver. She has toured in Canada, the United States, and Europe with major recording artists and has appeared on television and radio in Canada and France.
A true ambassador of African culture, Essombe's passion for her culture inspired her to become a professional dancer, dance teacher, storyteller, trainer and speaker, and TV and radio show host. She uses dance as a medium to express life to its fullest and also as a journey to a higher level of consciousness. Those who attend will find that her workshops will enrich the experience of Diallo's evening performance.
To learn more about Alpha Yaya Diallo and hear clips of his music, visit his website at www.alphayayadiallo.com. To learn more about Jacky Essombe, visit her website at www.jackyessombe.com/about.php.
Tickets are available through the Brickyard Pond box office at 603-358-2168 or on the web at www.keene.edu/racbp. Prices are $27 for the general public, $25 for seniors and KSC faculty and staff, $14 for youth ages 17 years and younger, and $5 for KSC students with an ID. Master classes and the rehearsal and demonstration are free and open to the public.
Tickets for all of the Redfern's presenting events and performances by the departments of Music and Theatre and Dance are also available. Patrons can still purchase 20/20 memberships that enable them to receive a 20% discount for all Presenting Series performances.
Related Stories