KSC Faculty Artists Recital to Feature an Evening of Classical Selections and Contemporary Folk Music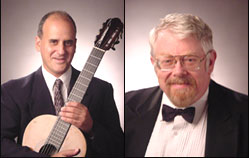 KEENE, N.H., 10/1/07 - The Keene State College Department of Music will open its 2007 fall season with a faculty artists recital featuring works by Brahms, Chopin, and original folk music by Kim Wallach, among others. The recital will be heard Thursday, October 11, at 7:30 p.m. in Keene State's Redfern Arts Center on Brickyard Pond's Alumni Recital Hall. Tickets are available through the Redfern box office at 603-358-2168 or online at www.keene.edu/racbp. They are $10 for the general public and $5 for seniors, KSC faculty and staff, youth ages 17 and younger, and KSC students with an ID.
The program will open with faculty artist-in-residence and pianist George Loring, who will play Johannes Brahms's Vier Klavierstucke, op. 119. Loring, who holds a Master of Music in Piano Performance, with honors from the New England Conservatory of Music, performs frequently throughout New England as a soloist, collaborative artist, and chamber musician, and has performed throughout Europe, Hawaii, and on New Hampshire public radio and television.
Professor of music José Lezcano will play three works for guitar: Federico Moreno Tórroba's Madroños, Joaquín Turina's Fandanguillo, and Agustín Barrios Mangoré's Un Sueño en la Floresta. Lezcano, who is director of the Keene State Guitar Orchestra and Latin American Ensemble, has performed on four continents. His programs, which feature both classical and Andean music, have taken him as a recitalist, collaborative musician, and concerto soloist from New York's Carnegie Recital Hall to major venues and festivals in Ecuador, Colombia, Peru, Brazil, China, the Czech Republic, and Germany.
Local musician and KSC adjunct faculty member Kim Wallach is best known as a singer of traditional, original, and children's songs; she accompanies herself on guitar and banjo. When not heard as a soloist, she often appears with the Short Sisters, a trio of musicians who have been performing together since 1979. Wallach will be heard in a selection of original pieces.
KSC adjunct faculty member and pianist Lillian Pearson will play Fredric Chopin's Ballade in G Minor, op. 23. It is the first of Chopin's four ballades for solo piano and was written in 1835-36 during the composer's early days in Paris. Film fans will recall that it is featured in the movie The Pianist.
The program will conclude with KSC adjunct professor of music Christopher Swist, who will play Toshio Hosokawa's 2002 composition for marimba Reminiscence. Swist, who is also on the faculty of Holyoke Community College and the Hartt School Community Division, describes Reminiscence as evocative of the ocean's ebb and flow, rushing in with a roar and then gently receding.
Related Stories