Owls to Host 13th Annual KSC Cross Country Invitational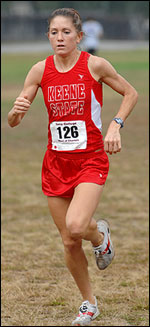 KEENE, N.H., 9/25/07 - Keene State College men's and women's cross country teams will compete in their only home meet of the season when they host the 13th Annual KSC Invitational at the Owl Athletic Complex on Saturday. The men's race begins at 11 a.m., followed by the women's competition at 11:45 a.m.
Longtime Owl Coach Peter Thomas has put together a competitive field to challenge his runners. "It's a pretty good field," he said. "Some teams are holding back runners to prepare for next week's New England Championships, but it should be a competitive race."
Teams from Assumption, American International, Fitchburg State, UMass Lowell, New England College, Stonehill, Wheaton, Tufts, and Williams will be on Saturday's field. Both Stonehill and Williams are ranked in their respective Division II and III polls. The women's squad from Springfield College will also compete along with Tufts' Cat Beck, a returning All-American who's been hampered by injuries.
Currently ranked 15th nationally and fourth in New England, the KSC women will once again be led by the dynamic duo of seniors Breanne Lucey and Jennifer Adams. Lucey has already raced to wins at the Dartmouth Invitational and last week's Iona Meet of Champions. Adams topped the field at the Umass Dartmouth Invitational.
Looking to earn their second straight trip to the NCAA championships, the Owls' strong supporting cast includes Adelle Zocher, Katelyn Carr, and promising freshman Nicole Slane.
"This is by far the most talented women's team we've had." Thomas said.
In transition the young Owl men's team is looking to get back on course after having its string of nine straight NCAA appearances come to an end last fall. Junior Jason Garrity has jumped to the head of the Owls' lead pack, which includes sophomores Jared Samuel and Patrick Davis and up-and-coming freshmen Craig MacPherson and Charlie Baldour.
"We have 12 to 13 guys who are still very much in the mix," said Thomas.
Both Keene State teams have faired well on their home turf. The Owl men have won eight out of the last nine meets. The Owl women claimed their first KSC Invitational title since 2003 last year.
Related Stories