Keene State Announces Changes On Women's Basketball Coaching Staff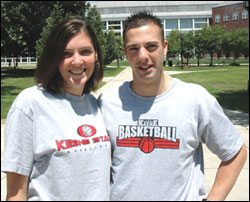 KEENE, N.H., 07/30/07 - Keene State College head women's basketball coach Keith Boucher has announced some changes to his coaching staff for the 2007-08 season.
Set to begin her fifth season with the team, Kate Fillion has been elevated to associate head coach, and Ryan Margaitis and Russ Pickering join the program as first-year assistants. Margaitis and Pickering fill the vacancies of Eric Matte and Trevor Hansen, who left to become the head and assistant coaches respectively at Keene High School.
"It's never easy to make changes, but I'm really excited about our coaching staff for the upcoming season," said Boucher, who's going into his 19th year with the Owls. "New coaches bring new ideas and a different perspective."
Fillion has been instrumental in the rise of the Owls as a highly competitive team in the tough Little East Conference. "I think I'm ready for it," said Fillion, who will add more recruiting responsibilities to her job. "It's really a reflection on Keith. He's taught me so much."
"Kate has grown a great deal and has done a great job with our players," said Boucher. "It's my way of awarding Kate and telling her I have confidence in her ability to take over the team in my absence."
Fillion, a native of Littleton, New Hampshire, was a four-year starter (1997-2001) at Plymouth State, where she set the career record for three-point baskets made. Off the court, Fillion teaches health classes at Monadnock Regional High School.
Originally from Litchfield, Connecticut, Margaitis comes to KSC after serving last year as the head girls' basketball coach at Fall Mountain Regional High School (FMRHS). "I saw his team playing during our Christmas tournament and was impressed with the job Ryan did," said Boucher. "I thought he was a good communicator and got the most out of the team's talent."
"I'm really excited about moving up to the college level," said Margaitis. "I've been to a ton of Keene State games over the years, so I'm very familiar with them."
A 1,000-point career scorer at Wamago High in Litchfield, Margaitis played a season at Springfield College. He began his coaching career in Connecticut, before spending a year with Coach Phil Hebert at Keene High then moving on to FMRHS.
The addition of Margaitis will bring unusual dynamics to the KSC bench. Ryan and fiancée Kate are engaged to be married next year. As for any possible premarital disagreements on the bench, Ryan said they already talked about it and don't foresee any problems. "If there's an argument, Coach Boucher will over rule both of us," said Fillion with a smile.
There will be a Pickering on both the Keene State men's and women's basketball benches this season. Russ will join his nephew Brian, who decided to return to the Owls after coaching the Monadnock boy's team last year.
Russ Pickering's basketball coaching résumé is both long and impressive. He began his coaching career at Orford High School and later at Mt. Greylock in Williamston, Massachusetts, leading the boy's team to their only Western Massachusetts championship in 1969. During that season, his team advanced to the state tournament played at the Boston Garden. He said sitting in the same chair as former Celtic great Red Auerbach was the one of the special moments in his coaching career.
The Walpole, New Hampshire, native then moved on to Bellows Falls where he coached both boy's and girl's teams over a 34-year span. He was an assistant on the state runner-up boy's team in 1974 and later helped out with the girl's program that claimed three (2000, 2001, and 2003) state titles.
After a short-lived retirement, Pickering decided to return to coaching last year, hooking up with Brian at Monadnock. He's looking forward to his first college coaching stint. "Up until now, I've enjoyed taking young players and moving them up through the varsity high school level," said Pickering. "This is a new challenge for me. If I'm ever going to do it, the time is now."
"He reminds me of my father-in-law (Lang Metcalf, the long-time coach at Lebanon High)," said Boucher. "He's a basketball junkie and will bring a wealth of experience to the team."
A coach for all seasons, Pickering also coached a combined 13 state championship cross country and track teams at Bellows Fall and currently assists Tim St. Pierre with the girls' soccer team at KHS and helps his son Tim with the track and field program in the spring.
"I love coaching," he said. "That's what I live for."
Related Stories