Mother and Daughter to Coach KSC Cheerleading Team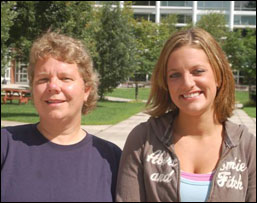 KEENE, N.H., 7/23/07 - Keene State College cheerleading will become a family affair this season with mother and daughter Linda and Megan Lawton teaming up to coach the program.
The Lawtons take over the team from Karen Wilson, who served as the Owls' head cheerleading coach the past nine years.
Linda comes to Keene State from Monadnock Regional High School (MRHS) in Swanzey, New Hampshire, where she was the varsity cheerleading coach since 1996. Megan, a former Husky cheerleader, will work with the KSC team in addition to her job as a professional choreographer with Varsity Remarkable Original Choreography (V!ROC), a company associated with the Universal Cheerleaders Association (UCA).
Both are excited about working with the Keene State team. "I've been to several of Keene State's competitions and saw their talent on the team," said Linda. "I thought it would be great to work with the program. Having done high school for awhile, I was ready to take the next step."
"We work really well together, said Megan, who currently resides in Marlow. "We have a good balance of coaching and experience."
Originally from Bridgeport, Connecticut, the Lawtons moved to Swanzey 21 years ago. With a daughter wanting to cheer and the Pop Warner team already full, Linda did what any good mother would do. Despite having no experience, she started a squad at the Cutler School in Swanzey.
After taking classes and attending several cheerleading camps, Linda instituted a team at Monadnock Junior High and took over the varsity program in 1996.
"My mother has always been there for me," said Megan. "I owe so much to her."
Under the direction of Linda and Megan, who joined her mother on the MRHS coaching staff in 2004, the Huskies captured eight Class I state championships and were runners-up eight times.
Attending Marshall University in Huntington, West Virginia, Megan earned a spot on the school's cheerleading team. However, instead of cheering for the school, she decided to work as a UCA instructor at a regional all-star gym and get involved with competitive cheering.
"It was a very difficult decision," said Megan, who still performs during the summer and at several prestigious events, including the Macy's Parade in New York. "But it ended up being a blessing in disguise. I not only got to learn about running a gym and working with kids of all ages, but I also got the opportunity to train a team that qualified for the world championships."
In addition to working with her mother at Monadnock, Megan has been a head camp instructor and professional choreographer for UCA traveling around the country developing routines for all-star, high school, and college competitive squads.
In 2005, Linda and Megan joined forces to open up their own gym, Northern Lights All-Star Cheering, in Swanzey. The gym, which has more than 100 members, has won seven national titles and one grand champion award.
Their successful partnership will continue at Keene State.
They work as a tandem. While Linda is in charge of game preparation and crowd promotions, Megan handles the cutting edge stunts and what's new as far as competition is concerned. "If it wasn't for competition, Megan probably wouldn't have been a cheerleader," said Linda. "The competitive drive keeps her going."
Both stress safety and creating a positive environment where the athletes can support the other KSC athletic teams and train for a competitive season.
Linda said she'd like to get the team more involved during games. "Some of the cheerleaders told me they don't get a lot of crowd reaction, so that's one of our goals," Linda said. "We're also looking into cheering for other teams and doing community service projects."
"I love the game atmosphere and leading the crowd, so I'm really excited about getting back to that aspect of cheering" said Megan. "We're going to be a good team and do some great things for Keene State."
Related Stories