Change Of Heart: Pickering Returns To Keene State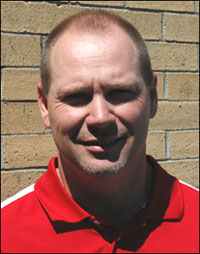 KEENE, N.H., 7/16/07 - Brian Pickering said, "It was like setting your favorite girl free, and saying, what did I do that for."
So after taking a sabbatical year away from Keene State, Pickering decided it was best to return to his first love and come back to his former position as associate head coach of the Owl men's basketball team this season.
Pickering, who coached the Monadnock Regional High School (MRHS) boy's team in the interim, said the year away from KSC allowed him to grow professionally. "It was good for me to get away, be a head coach, and call my own shots," said Pickering, who also spent the time earning his master's degree in administration at Keene State. "But at the same time, I found out what my true love is and that's important, too."
"It wasn't that I didn't enjoy Monadnock," Pickering said. "There were a lot of good times. We won a lot of games, and I loved the kids that I coached. But the transition from college to the high school level was difficult for me. It felt more like a job instead of a passion. I don't think it was fair to the kids from Monadnock for me to continue if my heart wasn't into it."
While away, Pickering frequently kept in touch with Keene State head coach Rob Colbert. "We bounced ideas off each other just as we did when he was here," Colbert said. "Brian knew when he left that the door was always open to return."
In his one season coaching the MRHS basketball team, Pickering, from Drewsville, New Hampshire, led the Huskies to a 9-9 record (the most wins in 15 years) and a berth in the Class I playoffs. He previously coached eight years at Fall Mountain Regional High School, where he also served as athletic director. He guided the Wildcat boys' team to the State Class M Championship in 1994 and the finals in 1993. Pickering also coached the MRHS football team for six seasons.
Pickering, who played college ball at rival Plymouth State, joined the Keene State coaching staff in 1996. He was elevated to associate head coach in the 2001-02 season.
Pickering is looking forward to reuniting with Coach Colbert on the KSC bench. He rejoins a staff that also includes Ben Mecklenberg and Kevin Justice. Gary Kornfield and Larry Judd won't be returning this season.
Already familiar with the staff and team personnel, Pickering won't need long to get up to speed. "Brian and I realized that we fit very well together," Colbert said. "In addition to being one of the best teachers that I've ever seen, he also brings instant respect and credibility to the program."
"Our relationship is a very good one professionally and we also have a great friendship," Pickering said. "The year apart was probably good for both of us. And I think we'll be even a better team the second time around."
Related Stories