Lucey Earns Track & Field Academic All-American Honors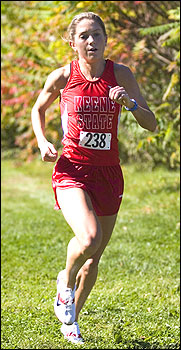 KEENE, N.H. 06/14/07 - Keene State College's Breanne Lucey has been named to the District 1 College Division Women's Track & Field/Cross Country Academic All-American second team. It's the second consecutive year the senior from Keene has garnered the honor.
After earning the honor last year for her accomplishments on the track, Lucey turned her attention to cross country this fall when her track eligibility was completed. Lucey jumped to the head of the Owls' pack, registering three first-place finishes, including the Little East Conference championship and a second-place finish at the NCAA New England regional race. She completed her season by earning All-America honors with her 28th-place performance at the NCAA championships.
Lucey's accomplishments stand out even more when you consider she was also a member of the KSC soccer team. "Soccer is fun, but running is my best sport and I wanted to do whatever I could to excel at it," she said.
Lucey and her coaches reached a middle ground that enabled her to compete in both sports. On a few occasions, she did double duty on the same day. After winning the Keene State Invitational by 28 seconds, Lucey joined her soccer teammates and scored a goal in the Owls' 3-2 overtime victory against Plymouth State.
A senior majoring in elementary education/psychology, Lucey admits that her demanding schedule sapped her energy level at times, but in the end made her stronger. She competed as an individual runner and served as a student assistant coach for the Owl women's track team this spring.
Lucey hopes to continue as a two-sport Owl athlete, playing soccer and running on the cross country team this fall. Lucey is the third KSC athlete to receive Academic All-American honors. In 1999, Scott Jensen earned national Academic All-American recognition in cross country, and Kerry Marsh was a District Academic All-American softball player in 2002.
Related Stories