Johnson Named to USILA All-American Team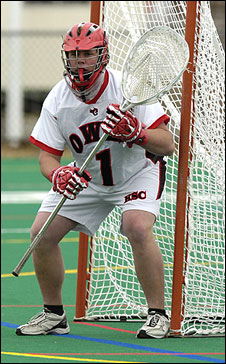 KEENE, N.H., 6/11/07 - Keene State College's Matt Johnson has been named an honorable mention All-American by the United States Intercollegiate Lacrosse Association (USILA).
Johnson, a junior goalie from Derry, New Hampshire, finished fourth in NCAA Division III in goals against average (5.54) and led the nation in save percentage (.713).
Despite his impressive work between the pipes, Johnson deflected the individual recognition and instead lauded his teammates for the honor. "It's a special honor, but I couldn't have done it without my teammates," he said. "A goalie is only as good as the defense around him, and I had one of the best."
"Matt richly deserves the honor," said Keene State coach Mark Theriault. "He's a terrific all-around player who came up big for us throughout the season."
A two-time LEC Defensive Player of the Year, Johnson led a stingy Owl defense that finished third nationally in scoring defense, giving up just 95 goals (5.59) in 17 games.
Johnson rewrote the KSC record book. In addition to making a school-record 24 saves in an NCAA second-round game against New England College, he also set season marks for wins (16), saves (229), goals against average (5.54), and save percentage (.713).
As a team, Keene State posted a program best 16 victories (16-1) on the way to capturing the Little East championship and becoming the first conference team to register an NCAA win.
Johnson becomes the second Owl men's lacrosse player to earn All-America honors. Eric Momnie, an attacker, also received honorable mention honors in 2005.
Johnson plans to spend his summer working at several area lacrosse camps this summer. "My goal is to come back next year and receive the honor again," he said.
Related Stories