Keene Is Reading: New KSC Community Program Launches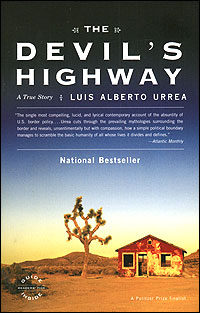 KEENE, N.H., 6/4/07 - For six consecutive years, matriculating students at Keene State College have participated in the Summer Reading Program, which is rooted in the idea that becoming a more engaged and productive reader is among the most meaningful outcomes of a college education.
For the 2007-08 reading program, newly titled Keene Is Reading, the College invites all members of the greater Keene community to join us for discussions on immigration, citizenship, and the power of writing. Watch for upcoming events and discussions at KSC, the Keene Public Library, and elsewhere.
This year's book selection is Luis Alberto Urrea's The Devil's Highway (2004), a nonfiction account of a group of Mexican immigrants lost in the Arizona desert. The book was a finalist for the Pulitzer Prize and received a 2004 Lannan Literary Award and the Pacific Rim Kiriyama Prize.
Luis Alberto Urrea, who teaches creative writing at the University of Illinois-Chicago, has published numerous books, including his National Book Award-winning memoir Nobody's Son: Notes from an American Life (1999) and the novel The Hummingbird's Daughter (2005).
The Keene Is Reading program will begin with summer orientation sessions on campus this month, when the book is introduced to first-year students. During the fall semester, students, faculty, staff, and members of the community will discuss the book as part of the College's Biennial Symposium on Citizenship. During the spring semester, we will continue discussing the book, including a planned public lecture by the author.
For more information about The Devil's Highway and upcoming program events, visit www.academics.keene.edu/keeneisreading.
Related Stories