Paul Vincent Awarded Pinchas and Mark Wisen Fellowship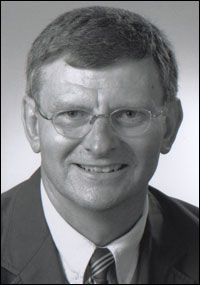 KEENE, N.H., 6/4/07 - Dr. Paul Vincent, director of Keene State College's Cohen Center for Holocaust Studies, has been awarded a five-month Pinchas and Mark Wisen Fellowship to pursue his research project, "The United States and the Crisis of Nazi Racial Policy, 1938-1941." The Fellowship award is $3,000 per month for a five-month residency period at the Center for Advanced Holocaust Studies at the U.S. Holocaust Memorial Museum in Washington, D.C.
The fellowships support significant research and writing about the Holocaust, and visiting scholars have access to more than 38 million pages of Holocaust- related archival documentation; the museum's extensive library; oral history, film, photo, art, artifacts, and memoir collections; and the Holocaust survivor database. Many of these sources have not been examined by scholars.
In addition to pursuing their individual projects, fellows at the Center work with other new and established Holocaust scholars from the United States and abroad, and participate in scholarly programs and outreach activities at local and national universities and other academic institutions.
Dr. Vincent will step down as director of the Cohen Center in July, and he will focus on developing Keene State College's current minor in Holocaust Studies to include genocide studies. The Cohen Center for Holocaust Studies is one of the oldest Holocaust resource Centers in the United States. Founded in 1983, the Center is a nonsectarian organization located at Keene State College in rural New Hampshire. For more information, call 603-358-2490 or visit www.keene.edu/cchs.
Related Stories