Keene State College Honors Veterans with Sculpture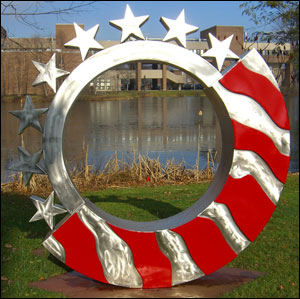 KEENE, N.H., 5/30/07 - On Saturday, June 2, Keene State College (KSC) will unveil an impressive sculpture, Stars & Stripes, as a monument to U.S. military veterans.
A gift from KSC alumni, staff, and local veterans organizations, the sculpture is intended to honor all community members who have served our country in times of peace and war. The dedication will take place at 3:30 p.m. in front of the Pondside II residence hall beside Brickyard Pond as part of the College's Reunion Weekend festivities.
The ceremony will feature patriotic music and addresses from KSC president Helen Giles-Gee, Keene mayor Michael Blastos, and various veterans and College alumni. The dedication is open to the public; veterans are especially welcome. (In case of rain, the ceremony will be held in the portico of the Redfern Arts Center on Brickyard Pond.) A reception will follow.
American sculptor and associate professor of art/sculpture at Bridgewater State College Rob Lorenson created Stars & Stripes. Another of his sculptures, Aurora, stands beside the Mason Library on the KSC campus.
For a campus map and directions to the College that include detour information to help you avoid the current construction on Keene's Main Street, visit htt p://www.keene.edu/aboutksc/campusmap.cfm.
Related Stories