Adams and Miller to Race at NCAA Track Championships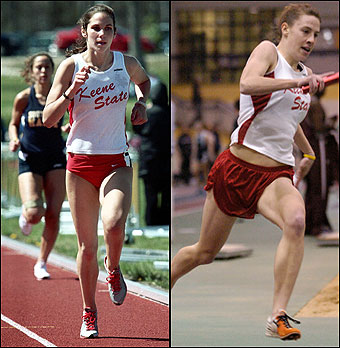 KEENE, N.H., 5/22/07 - Two members of the Keene State College women's track team are headed to the University of Wisconsin-Oshkosh for the NCAA Division III Outdoor Track and Field Championships that begin on Thursday.
Running in her first outdoor national meet, senior Sarah Miller of Walpole, New Hampshire, will compete in the 800-meter race and junior Jennifer Adams from Saratoga Springs, New York, will double-dip racing in both the 5,000, and 10,000-meter events.
Longtime Owl track coach Peter Thomas feels Miller and Adams have the chance to return Keene with All-America honors. "Jenn's top event is the 10K, so we're looking for her to have a good performance in that race," he said. "She's not as strong in the 5K and also has to be concerned about recovery time."
"Sarah is currently ninth in the 800 field and needs to run up to her capability if she hopes to move up and get a top-eight All-America finish," he said.
Both runners will have experience on their side. Adams earned All-America last spring with her fourth-place finished in the 10,000 and was a member of the Owls' national champion distance medley team at the 2005 Indoor NCAA meet. Adams is seeded second in the 10K and in the back of the pack (12th) in the 5K.
"It's a tough double, but I think I'm up to the challenge," said Adams. "I've had some good workouts this week, so we'll see what happens."
Adams says she is at full strength after fighting a series of illnesses that caused her to finish out of the money (9th) in the mile at the indoor championships this winter.
Miller, who moved up from the 400 to the 800 this season, will be racing for her fourth All-America honor. She placed fifth in the event at the indoor nationals. As a junior, Miller was eighth in the 400 and also ran a leg on KSC's national champion DMR team. Miller said there's a big difference between the indoor and outdoor championships. "The races outdoors are faster because you have schools competing from warm weather states like California," she said. "The 800 is still a quick race, but I'm ready. I want to end my career on a positive note."
The Owls will be looking to add to the long list of track All-Americans that currently includes 81 athletes (51 men and 30 women).
Related Stories